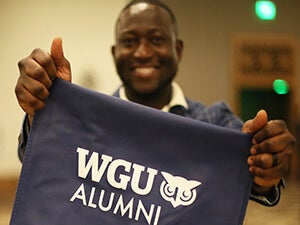 By Dr. Steven E. Johnson
"An investment in knowledge pays the best interest," founding father Benjamin Franklin said more than 260 years ago. 
Franklin was involved with establishing America's first university. He advocated for social mobility, wanted to improve the quality of life in the United States and believed education was an important factor towards achieving those goals.
This month, as our country celebrated its independence, I'm reminded that not only are we the land of the free — we are also the land of opportunity.
Since World War II, higher education has been the surest pathway to opportunity and upward mobility in the United States. And now, America's future relies more heavily than ever on the ability of our higher education institutions to produce the talented, skilled workforce necessary to compete in the global economy. To succeed, we must draw on the talents of people from all backgrounds and life experiences.
At WGU Texas, the average student age is 37, and more than 70% of our students are members of at least one underserved population. We have excelled at creating flexible and personalized learning experiences that lead to great outcomes through unique online, competency-based programs that address key workforce needs. We are proud of our diverse student population that includes underserved, first generation and low-income students. 
Additionally, 74% of our students work full time while they are enrolled in our programs and 14% of our students include active-duty military personnel, veterans and military family members. WGU Texas has received the "Top Military-Friendly Colleges and Universities" designation for 10 consecutive years and provides all education benefits under the GI Bill.
At WGU Texas, we believe in education without boundaries. That's why we are working diligently to reduce as many barriers to the pursuit of higher education attainment as possible through the following strategies:
1. Increasing accessibility by solving the college-readiness gap
In May, we launched the WGU Academy, an independent operating unit established to help solve the growing college-readiness gap. WGU Academy's courses and programs are providing aspiring students with an affordable, low-risk on-ramp that prepares them for college success, either at WGU or other institutions. 
2. Making educational attainment as affordable as possible
At WGU Texas, our annual tuition and fees are nearly half the national average (average cost for a bachelor's degree is $16,500), and a WGU degree continues to be a good investment for our graduates, most of whom see a positive return within three years. On average, our graduates increase their pre-enrollment income by $12,600 within two years of graduation and by $18,400 within four years. 
3. Filling the gaps in high-demand fields
With more than 60 bachelor's and master's degrees in business, IT, teacher education and healthcare, we are educating and training Texans to fill the gaps in those high-demand fields. Since 2011, we have awarded degrees to more than 12,000 Texans who are helping to alleviate workforce shortages in industries including teaching, nursing, information technology and community services.
4. Forging partnerships with the communities we serve
In 2011, the Texas Association of Community Colleges (TACC) signed a statewide agreement with WGU Texas to ensure a seamless transfer of credits into WGU. WGU Texas is working with all 50 community colleges to deepen those relationships, formalizing the transfer pathways and offering generous transfer privileges, discounted tuition and scholarships for community college graduates. To date, we've signed agreements with 11 community colleges across the state to create more affordable and accessible pathways to obtaining a college degree. 
And WGU Texas can do more. Currently, just 9% of our students are from rural areas. We hope to serve more rural residents, but in order to do so, we need broadband internet access to expand to every corner of the state. According to estimates, there are 1.8 million Texans without broadband internet access, most of whom live in rural areas. These areas tend to be most affected by teacher shortages and lack four-year institutions. By supporting the expansion of broadband internet access to these areas, we can offer a practical, convenient and cost-effective online education and a pathway to higher education attainment. 
The FCC's recent funding announcement to help build rural broadband networks across the U.S. means more broadband money is on the way. 23 states are part of the $20.4 billion project to expand broadband to thousands unserved by existing internet or underserved areas of the U.S., including 89 Texas counties. Over the next 10 years, $76.7 million will fund the expansion to more than 33,000 rural homes and businesses in Texas. With   complete buildout expected in six years, this will provide much needed infrastructure, access, and economic opportunity for rural Texans. 
At WGU Texas, we have seen firsthand that improving the quality of, and access to, education increases opportunity for those who complete our programs. But the benefits don't stop there. They extend to families and communities across our state.
We view education as the gateway to opportunity, and the pillar on which our national identity as the land of opportunity will endure — just as Benjamin Franklin said more than two centuries ago. 
Dr. Steven E. Johnson is the chancellor of WGU Texas, a state-endorsed, nonprofit, accredited university launched in August 2011 to expand access to affordable, high-quality educational opportunities for Texans.