From junior colleges and traditional four-year institutions to online universities, WGU graduate Maegen Garner charted a path to her current role as chief clinical operations officer for Seminole Hospital District that started when she was 18. Maegan worked in small and large hospitals throughout her career in a variety of roles, which she says, "allowed me to have a deeper and wider knowledge base."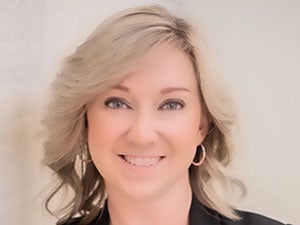 Most chief clinical operations officers possess a bachelor's degree in healthcare management, a BSN or master's degree in a related field as well as extensive experience in the field. COOs are responsible for aspects of clinical work, from developing strategies and planning ways to ensure employee compliance to making overall operations more efficient. It's a leadership role that was years in the making for Maegen. "I chose to get my degree when I did because it was always my goal to have a BSN and possibly be in a management position one day," she says.
Maegen came across WGU when she was researching online schools that offered RN to BSN degrees. She was looking for a school that would allow her to work full time and care for family while obtaining her degree. "I was also looking for a cost-effective option. I really enjoyed the flexibility and the work at your own pace courses." 
Toward the end of her degree program, she was able to take a break from coursework after the birth of her newest family member, and then "jumped right back in to finish up."  Maegan is a wife and mother of two young children who are very active in sports, and that can require a greater commitment and focus. While she enjoys her career, she says her family "is her number one priority and greatest source of pride."
She says the traditional universities and junior college she attended were more rigid and structured. WGU's flexibility and being able to work at her own pace reduced the burden of obtaining a degree while working full time and being a full-time mom and wife. 
"I worked while I attended college starting with my EMT, LVN, RN ADN, BSN, and now my MBA so I would not be burdened with a large amount of debt as I was responsible for my school and living expenses."  She says her husband is her biggest supporter and has been with her through everything. "I don't know what I would do without him.  My family and friends have always been supportive throughout my education."
Maegen completed her BSN degree from WGU in 2016 and began a new position in IT with the Seminole Hospital District. She credits her ability to expand her knowledge base in health care and nursing for her career growth. "I was considered for my current position in 2019 as Chief, Clinical Operations Officer. I'm currently working on completing an MBA with a specialization in healthcare management from UT and will graduate in December." Maegen praised Seminole Hospital District CEO Larry Gray for mentoring and coaching her on all aspects of managing a hospital district and strategic planning. 
WGU's degree programs can help you chart your path to a successful career in healthcare, with bachelor's and master's degrees in nursing, health services, leadership and management, informatics, and nurse practitioner. Our programs are designed to fit your lifestyle and the demanding schedules that healthcare workers often face.