By Michael Arias, Master of Business Administration (MBA)
WGU Texas has a long history of giving back and showing our appreciation to veterans. For ten consecutive years Military Advanced Education & Transition magazine has recognized WGU as a "Top School" and for six consecutive years as a Military Friendly© School. Today, more than 16 percent of WGU Texas students are active-duty military personnel, veterans, or dependents.
2017 WGU Texas graduate and El Paso resident Michael Arias joined the Army at 19 and began attending college while stationed in Iraq. Michael's obstacles and adversities never stopped him from achieving his goals of earning a college degree. This is his story.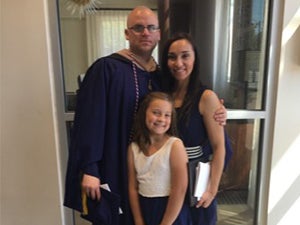 Although everyone in my family had earned their college degree, I was not interested in going to college after high school. I wanted to be like my grandpa who served during the Vietnam War era and spent more than 30 years in the United States Army.
September 11, 2001 confirmed my decision. So right after graduation, I was off to basic training in the Army.
This was a future I wanted and at age 19, I was a soldier stationed in Iraq. This is where I quickly developed two new passions — my passion to be a leader. And once I realized it takes skill and knowledge to lead, my second passion was born — the passion to learn. That fueled my dream to someday be a leader in the U.S. Armed Forces at the high levels.
Pursuing my education while fighting a war was incredibly challenging, but my experience proves how badly I wanted to learn. I enrolled in an online associate's program. Like WGU Texas, I was required to take proctored tests after each course unit in order to move through the coursework. Proctored tests were conducted at a Forward Operating Base, (FOB). Any soldier of war can confirm, traveling to a FOB is risky. To get there, I had to volunteer to travel with another unit on a convoy. Therefore, I literally risked my life to get my education.
When I returned from Iraq, I remained in the service and completed my associate's degree. I was elated! My hard work finally paid off and I was done with late night studying and missing time with my family. Right? Wrong! My sweet wife, who was a WGU Texas student at the time said, "You know babe, you should just finish your bachelor's through WGU."
My wife's goal inspired me and at the same time I saw that the Army was becoming more innovative and was promoting soldiers who had college degrees. That's when I used my wife's WGU "refer a friend" application fee waiver, and that turned out to be the best $65 I ever saved.
As I started my undergraduate degree through WGU Texas, I was selected by the Army to do one of the toughest and time consuming jobs — recruiting. I was working seven days a week, but with the help of my course mentors, I managed to stay up, studying until midnight and somehow making it to physical training at 05:45!
I will never forget the email from my first mentor Bill McDaniel which read, "YOU DID IT!!!" After about two years, I earned my bachelor's degree. I was so proud to walk the stage at the Austin WGU Texas commencement ceremony that fall. I never thought I would be wearing a cap and gown. As I watched all those students receiving their master's during that ceremony, I was inspired to go after my MBA.
Within a few months, I enrolled again at WGU Texas, knocking down doors I never thought possible.
Just 10 years ago, if someone would have asked me if I would have gone through all those late nights in the field, adjusting my red lens so I could read in the dark, risking my safety so I could take proctored tests, dealing with late nights and early mornings to take care of my Army duties, I would have laughed.
Who knew the kid who was told he could never earn a college degree because he took the easy way out by joining the Army, is now a man who proudly served his country and earned his MBA.