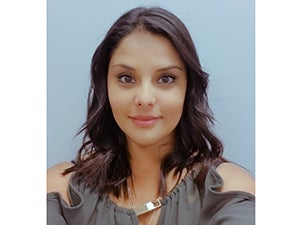 Miriam Ryzner moved to the United States at a young age and overcame many barriers to obtaining her education and life goals. Even when others told her she couldn't, Miriam persevered and continued to motivate herself to achieve a degree. After enrolling at WGU Texas to pursue a degree in healthcare management, Miriam was awarded the Opportunity Grant, part of the Equitable Access Initiative at WGU. This Q & A reveals her internal drive to stay focused on her goals and why she believes she can achieve them through higher education.
Tell us a little about your background—life, family, work, education.
I am a 27-year-old Hispanic student. I recently moved to San Antonio from New Mexico for a better job opportunity as a financial consultant. This wasn't intended to be a long-term career, but being from a small town, I accepted the opportunity to stabilize myself financially.
Before that, I worked as a private pay biller/collector for a year and four months at Nor-Lea Hospital District in Lovington, New Mexico. I learned so much from Nor-Lea, but I want to expand my qualifications by obtaining a degree in healthcare management. 

How did you learn about WGU Texas, and why did you choose our university?

I realized that I could not have a better future without a degree. So, I started researching how to go back to school the requirements needed to begin my new journey. I applied to WGU Texas, and a couple of days later, an enrollment counselor named Chuck reached out to me and answered any doubts, questions or concerns I had. He was very attentive to everything I was going through and guided me in the best way possible.

Honestly, if it weren't for him, I wouldn't have started pursuing my degree, and I would not have pushed myself to believe that there is a chance for me to be the first one in my family to have a higher level of education.

What made you decide to get your degree at this point in your life?

Continuing my education was always in my mind. Unfortunately, I had multiple life-changing events, which impacted my goal of having a degree at an earlier age. I started at American Career College to become a dental assistant. I worked two jobs to pay off my school debt and never relied on family help or student loans. I always stayed positive and thought, "Someday, I will be able to have more than four hours of sleep."

What does it mean to you to be awarded the Opportunity Grant? How does it make you view your studies or experience at WGU Texas going forward?

To be awarded the Opportunity Grant means so much to me. I have always done everything on my own, and I was about to give up on my dream of earning a bachelor's degree. I finally have help and support. I am extremely grateful, and I finally see the light at the end of a tunnel. 

Were there any barriers you've had to overcome (education, career)? How important is education in your family and who were your influencers, and supporters?

There were so many barriers. Thankfully, now, I can laugh about it. I prepared to start school last year, but my husband decided to leave me. He promised to help but never did, so I lost a second income. I lost hours job hours because of COVID and then moved to another state. Chuck was my guidance through it all and informed me about the scholarship. If he did not tell me how to apply, I probably would have just quit.

Can you share your future career and life goals?

I want to become an executive director at a hospital and would love to work for Providence or Covenant Hospital. I can't wait to graduate and be able to say, "Miriam, you finally got something you always wanted."

WGU Texas Strategic Partnership Manager Barbara LeCesne interviews Miriam and gives her a life changing surprise:
To learn more about the Equitable Access Initiative, visit wgu.edu/access.  If you're looking to reach your goals through higher education, apply today or speak with an enrollment counselor to get started on the path towards a brighter future.