A sense of school spirit is more natural for students who attend a physical campus, but online learners can also share a sense of school pride and connection to their educational journeys, too. 
When WGU Texas Strategic Partnership Manager Barbara LeCesne caught up with two very enthusiastic WGU Texas students during an information event at Medical City Alliance, a WGU Texas healthcare industry partner, they were excited to share why they chose WGU Texas to further their education. Barbara says in-person events provide opportunities to feel more connected and engaged, too.
Miguel Serrano has worked at Medical City Alliance for three years as a nurse leader in the Cath lab. He enrolled in the BSN to MSN Education degree program and is in his second term. "It was easy to apply and the competency-based format is an ideal fit for me," said Serrano. He stresses that good time management is key to his success and is pleased that the degree program does not require working with teams or groups.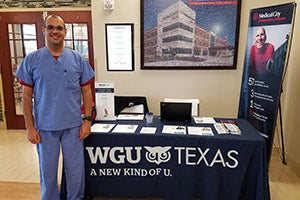 Serrano's strategy is to take the pre-assessments and spend time on the material he does not know. He smiled as he revealed he has passed every exam so far. With competency-based education, students progress through courses as soon as they can prove they've mastered the material, rather than advancing only when the term ends. Students like Serrano can lean on the knowledge they already have from previous work or school experience and accelerate faster through their program.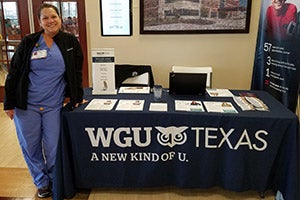 Eva Holmes has worked for HCA for 20 years and is an Emergency Services RN. She is in her second term of the RN to BSN degree program at WGU Texas. Other nurses at the hospital encouraged her to enroll, sharing that WGU was a great place to complete your education. The RN to BSN program is CCNE-accredited and builds on previous nursing education and experience.

Holmes says her program mentor has been especially valuable during some personal challenges she experienced earlier this year. Program mentors provide program instruction and guidance for each student from enrollment to graduation.
What she enjoys most about attending WGU Texas is "the flexibility of being able to complete my coursework anytime and anywhere."
While it may take a little extra effort for online students to feel connected and invested in their university and there's no magic formula, WGU Texas' foundation of creating a positive student experience means more students like Serrano and Holmes can cultivate lasting bonds and school pride.
If you're ready to pursue your degree and join the more than 120,000 WGU alumni across the U.S. who make up the night owl nation, take the first steps and learn more about the WGU Texas student experience.