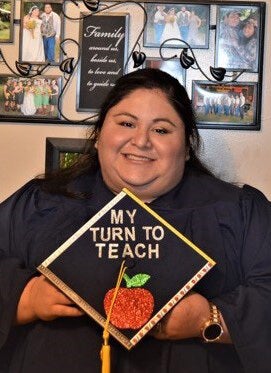 Julia Southerland
WGU created the Resiliency Grant to help students facing hardship due to the COVID-19 pandemic. We asked WGU Texas student and grant recipient Julia Southerland to share her story, the obstacles she faced becoming a teacher during the pandemic, and how returning to school brings her closer to achieving her goals as an educator.  
Tell us a little about your background—life, family, work, education.
My family has always been on the stands cheering me on and pushed me to do my best in all endeavors. I am married to my best friend Javier, who has been my rock and support throughout my journey of reaching my dreams. 
I have over 12 years of experience working in the education field. I finished my student teaching during the start of the pandemic and now I am currently teaching third grade Math and Science at my dream school. While it is my first year teaching, I love it in spite of the pandemic and all its challenges. 
I graduated from WGU with my Bachelor of Interdisciplinary Studies (K-8) in May of 2020 and now I am currently attending WGU to receive my Master of Education, Learning, and Technology. 
How did you learn about WGU Texas and why did you choose our university?

While working at HSA-Brownsville as a Special Education Assistant Teacher, colleagues commented about how I would make a great elementary teacher. I already had more than six years of experience in education, but with my passion for teaching, I felt I needed to do more.  I expressed my excitement to my husband and he quickly started researching different schools that would work for me. He came across WGU said to give it a try. It was the best decision of my life. WGU has a great support team that makes achieving your goals attainable. The best part is you can log in whenever and wherever to get your work done. 
Now that you've finished your degree, what are your career plans? 

I plan to continue teaching elementary school. For the future, I hope to start teaching part-time at our local community college and also mentor students who have a passion for teaching. 
Were there any barriers you've had to overcome? How important is an education in your family and who were your influencers, cheerleaders, and supporters? 

During my student teaching, I only had about two weeks left and then the world closed due to COVID-19. There were so many unknowns and I was stressed out, to say the least. My husband and I had saved enough to get us through my student teaching since I was not able to work. I finished all my classes, but I still had to pass my Praxis-social studies exam. Due to the pandemic, all testing sites were currently closed. I needed to pass that test to graduate in May and I needed to find a job to help pay for our bills. The pandemic made everything so hard. I was close to reaching my goal but there were so many hurdles placed in front of me. I finished my student teaching and was able to take the Praxis from home. 
August and September passed, and I had not received any calls, my dreams were crashing. I was about to give up when my dream school called to tell me that they had a position available to teach third-grade math and science. It was the opportunity I was waiting for. Math and science are my favorite subjects and now I would be able to teach them. 
What are your future career and life goals?
I want to continue to work hard and get nominated for the Teacher of the Year. I want to become a professor at the community college and mentor future educators just like my mother did. The pandemic has spurred many obstacles, but I think of myself as resilient. Like I tell my students, "Nothing can stop us, we are all the way up!" Thanks to WGU Texas, my passion for teaching, and hard work, I am following my dreams. 

In the video below, WGU Texas Strategic Partnership Managers interview Julia who is being awarded a surprise Resiliency Grant. She explains what the grant would mean to her and is in store for a surprise!