WGU Texas student and single parent Justin Loken has been in the workforce for more than a decade and is a father of three. Amid the pandemic and working long hours due to company layoffs, he found himself telling his children that no matter where you find yourself in life, you can pursue your dreams. In this Q&A, Justin shares his experience of earning a cybersecurity degree at WGU, finding the motivation within himself, and how he aspires to impact the growing industry of cybersecurity. 

Please give a brief description of your background.
I've been in a management role for 11 years in the retail market space as well and currently work as a manager for a national car rental company. I am a single father with primary custody of my twin 11-year-old boys and my 8-year-old daughter. I have a BA in Business Management and Administration. While working on my first degree, I developed a passion for computers, as well as a passion for security while working in asset protection and attending school.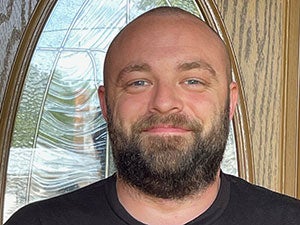 How did you find WGU Texas and why did you choose our university?
I found WGU through my own research as well as through social media ads. I ultimately chose WGU over other universities because I liked the structure of the curriculum and that is self-paced to completion. I have always been my own motivator, so a program that allowed me to motivate myself at my own pace was an exceptional option for me. 
What made you decide to get your degree at this point in your life?
Ultimately, it was a mix of COVID and my children. The business I work for was deemed essential, but we experienced heavy layoffs. I ended up working 14-16 hour shifts five to six days a week and couldn't see my children much. My first approved vacation was about 8 months into COVID and during that time, my ex-wife and I were trying to explain to our boys that they should always follow their dreams and do things they are passionate about. One of my sons was having trouble in school with virtual learning and understanding how school fits into a job he wants later in life. As I was explaining to him that getting a good education can lead to the job you really enjoy, he asked me if I liked what I did or if I wanted to do something different. I told him, "I always wanted to catch bad guys online like I did in stores." He asked me why I wasn't doing that, and I didn't have an answer. As my vacation was ending, all three cried about not seeing me again because of the long hours I was working. That night, I requested information for WGU. I wanted more time with my kids, and I wanted to teach them that no matter when, they can always go back to pursue their dreams. 

What does it mean to you to be awarded a scholarship? How does it make you view your studies or experience at WGU Texas going forward?

Being awarded the Sage Scholarship is a relief. It helps ease the burden of finances as I raise my kids and pay for school at the same time. This scholarship allows more time to focus on my studies and not on financial concerns.

Were there any barriers you've had to overcome (education, career)? Who were your influencers, cheerleaders and supporters? 

At 16, I began having grand mal seizures. My last seizure was a cluster seizure and paramedics put me in a drug-induced coma to stop the seizures. I ended up spending the next several months learning how to read, write, and do math all over again while going to high school. Because of the seizures, there are major gaps in my memory from childhood. During my senior year of college, my ex-wife was a high-risk pregnancy, and on a handful of occasions, we almost lost our twins. I missed a final exam because of those pregnancy complications. My current career barrier would be IT experience. As I am switching fields from retail to IT, I need more experience under my belt to go with my degree. My biggest supporter and cheerleader will always be my mom. My mini influencers are my children as I try to be an influence on them. You must be your own motivator if you want to succeed. Things can help motivate you, but ultimately you must motivate yourself to follow through. 

Can you share your future career and life goals?

I haven't fully decided on a career path with my degree. I am leaning towards red team and pen testing. Short term, I hope to meet other WGU Texas alum or current students to network with and share learning ideas and concepts. Long term goals are watching my kids grow up and finding a place to work that will allow me to help pay for their college, so they do not have to worry about school debt. I also want to be able to put my mark on the cybersecurity sector. What does that mean exactly? I don't know. Only time will tell.

Would you recommend WGU Texas to your family and friends? 

I already do. I refer everyone that shows an interest to WGU. The self-paced learning and tuition cost are what brought me in and what I tell everyone who asks. 

Learn more about WGU's online degree programs in IT, business, education, and health professions. Find out the scholarships that are available and more information. Apply today!