If you want to know how you can have job security right now in Texas, ask a nurse. The demand for registered nurses will nearly double that of all other occupations here in the coming years, among jobs earning above $34,550, according to The Department of the Texas Workforce Commission.
What's more, if you're uncertain about investing in a nursing degree, keep in mind that the educational and financial opportunities for your nursing career are — like everything else — bigger in Texas. There are degree and loan forgiveness opportunities here that you might not have elsewhere.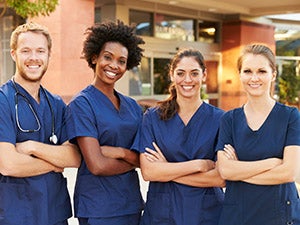 Sweeter Than Stolen Honey
Nurses working in designated HPSAs in Texas have access to two loan repayment programs: the NHSC Loan Repayment Program and the NURSE Corps Loan Repayment Program. Texas also has state and locally-funded student loan repayment programs administered by the Texas Higher Education Coordination Board (THECB) and the State Office of Rural Health (SORH). See the Texas Primary Care Office (TPCO) Loan Repayment Program page for more information.
Here's another sweet deal for furthering your nursing education in Texas: If you're studying to be an Advanced Nurse Practitioner (NP), going into a Primary Care specialty (Family Practice, Family Practice with OB, General Internal Medicine, Geriatrics, Ob/Gyn, Pediatrics, or Psychiatry), or a Certified Nurse Midwife (CNM), and commit to working in a high needs underserved area, the National Health Service Corps (NHSC) has a Scholarship Program that includes not only tuition, but a living stipend for you, too.
So, if you want an education in nursing, there's great potential for you to start your career without carrying student loan debt. And as a nurse, you'll be fulfilling a huge need, from a humane perspective.
Big Void, Big Opportunities
"As the demographics of our nation change, including aging of the baby boomers needing care and retirements of large numbers of baby boomer nurses, the demand for RNs will continue to outstrip the supply unless we are able to attract and educate more nurses," says Jan Jones-Schenk, WGU Chief Nursing Officer-National Director and Academic Administrator of WGU's College of Health Professions. "While in the past, the majority of nurses — almost 70 percent of them — worked in hospitals, today, nurses work in communities, schools, clinics, in online care coordination roles as well as in hospitals."
Everything is bigger in Texas, including its current healthcare provider shortage. That means throughout the Lone Star State, areas short of providers and healthcare facilities are federally designated Healthcare Professional Shortage Areas (HPSA). The designation allows the government to create programs to stop the bleeding from a lack of care in those areas. There are so many HPSA designations in Texas that you're likely living in one of them right now. Check out this HPSA interactive published by The Texas Tribune: Mapping Access to Health Care in Texas. 
Recruiting providers has become so mission critical to national and state health officials that they've supported schools which help you pursue nursing here. After a rigorous process, WGU Texas received accreditation for their B.S. in Nursing (Prelicensure) program since it provides their Texas students the simulation labs and agency-based clinical work experience that nurses need to prepare for the National Council Licensure Examination (NCLEX).
"Texas has such a workforce need in nursing here, but many students were being turned away by other programs because there just wasn't enough spots for them," explains Kim Kelly-Cortez, WGU Texas Director of Nursing. "WGU went through the extensive process for this accreditation so more nursing candidates will have the necessary clinical face-to-face experience in the program to obtain licensure."
Most WGU graduates triple their salaries when they become licensed and employed, says Jones-Schenk. "A profession that makes a key contribution to the nation's health makes for a fulfilling career bursting with possibilities. I cannot imagine a better time to be a nurse or to have such an amazing career."