The first of her siblings to go to college, BSN student Christina Brown credits her accomplishment to her late father, who was an advocate for higher education. Brown always loved helping others, but she finally found her passion for the philosophy of nursing and providing care after a personal experience she had with a nurse. Here, she talks about what led her to WGU, and her goals for obtaining a Bachelor of Science in Nursing.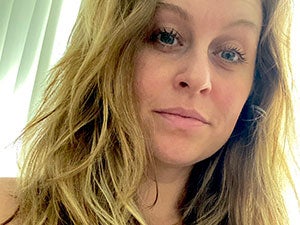 Tell us about your background—work, family, future career)
I started my nursing career in 2009 on the neurosurgical and neurology floor at Baylor University Hospital in Dallas, TX. From there, I worked in adolescent addiction and psychiatry, hospice, and now in case management. I am a single mother of a brilliant 16-year-old daughter. I hope to use my BSN to further my career in management or leadership roles.
How did you find WGU Texas and why did you choose our university?
My current manager told me about WGU. She recently graduated from WGU with a BSN. I chose WGU for the flexibility of self-paced, online learning along with the price point. WGU is significantly more affordable than comparable online programs.
What made you decide to get your degree and why did you choose this field?
My daughter is the main motivation for obtaining my BSN. I want to show her that despite any of life's hurdles, anything is possible if you put effort into it. She is the most important thing in my life, and I want to give her someone to look up to. I want her to see the importance of never giving up on your goals. I am also motivated by my late father, who passed away in 2017. He was an engineer who saw the benefits of completing an undergraduate degree in his career and he wanted the same for me.
What does it mean to you to be awarded a scholarship? How does it make you view your studies or experience at WGU Texas going forward?
Being awarded a scholarship is extreme motivation for me to reach my goals. What I hear when I learned I was a scholarship recipient is someone saying "we believe in you" to complete your education and reach your goals. I was surviving with over time work and knowing that school would deplete some of that income, so any amount of scholarship award is extremely helpful to supplement that income.

Were there any barriers you've had to overcome? Who were your influencers and supporters?

Being a single parent comes with plenty of obstacles to finishing school. The main barriers are time and availability for course work. It really requires you to put yourself first, or at least remind yourself that is what is happening. Reframing how I speak to myself is huge and takes constant work. For example, when things get tough, I am tired and do not have the desire or energy to keep going, a reminder that "I deserve this" or "I deserve my BSN degree" keeps me going. Positive self-talk and creating possibilities for growth help me to overcome a lot. I have much support from family, friends, and coworkers. I also had a lot of support from my boss as she recently completed the same program at WGU.

Can you share your future career and life goals?

I am very happy in my current role. It gives me the opportunity to reach so many patients and provide help they may not have otherwise. However, in the next 5 to 10 years, I hope to reach a level of leadership, preferably at my current company.

Would you recommend WGU Texas to your family and friends?

I have been recommending WGU to family and friends! My experience so far has been extremely positive, and I believe sharing growth opportunities keeps relationships strong.