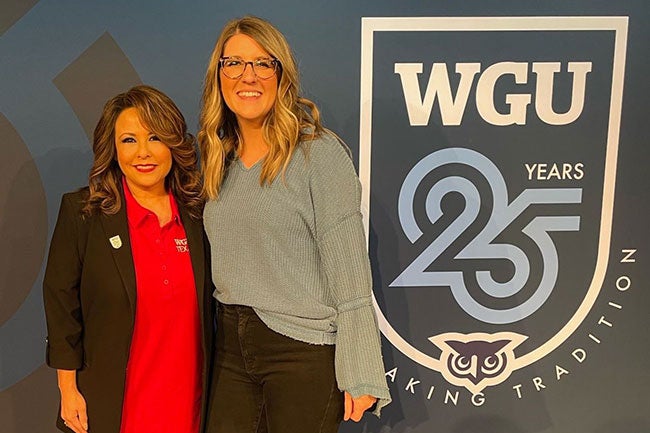 (l-r) WGU Texas Chancellor Linda Battles and WGU alumni Tiffani Flores
When Tiffani Flores enrolled in WGU to pursue a bachelor's degree in business management, she wanted to expand her skills and build on her career as an educator. While working as a special education teacher, she identified an opportunity to create a training curriculum to equip new teachers for life in a classroom environment and adjust to the challenges more smoothly and quickly.
Projects like that made her soon realize that to prepare for the next step in her career in teaching administration and training meant going back to school. She returned to WGU for a master's degree in management and leadership and was awarded the Alumni Master's Scholarship during a surprise scholarship presentation.  With an unmet need of nearly 24,000 teachers, including elementary, secondary, and special education in Texas, graduates like Tiffani who advance their school leader roles can help ensure teachers stay motivated by providing the support and resources necessary to deliver effective curriculum.
Tiffani shared her experience with WGU in this Q&A in May of 2021. As a fan of WGU's self-paced, online, competency-based model, Tiffani has urged many of her friends and family to earn their degrees. She completed her bachelor's degree alongside her sister and recommended the program to her dad, stepmom, stepsister, and step-brother-in-law, and enrolled in degree programs.
This year, WGU celebrates its 25th anniversary as a non-profit online learning institution. As part of the year-long celebrations, WGU staff is traveling across the U.S. hosting Town Halls and commencements.
To celebrate 25 years of providing pathways to opportunity through higher education, WGU is holding staff town halls and commencements across the U.S. for graduates in their respective areas. In February, the Dallas Town Hall recognized Tiffani during the Student Success Story segment, honoring her accomplishments, and thanking her for enthusiastically spreading the word about WGU to her family and friends.
Like Tiffani, many adult learners need flexible options to obtain their bachelor and master's degrees. If you're interested in learning more about our self-paced, competency based online degree programs, contact an Enrollment Counselor today!
WGU could be hosting a commencement near you! View the complete list of alumni celebrations and commencements.