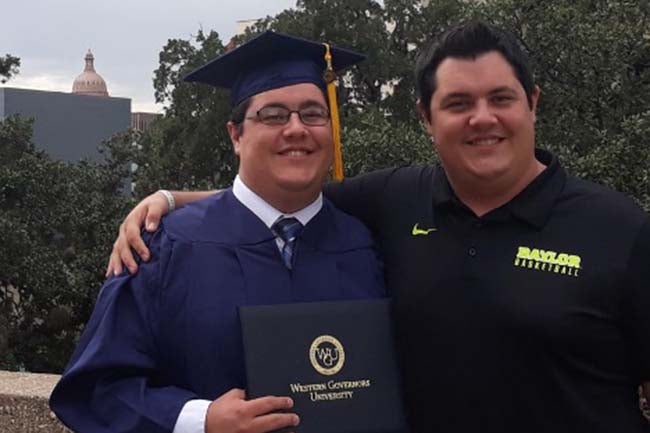 The fast-paced environment of traditional school models may be overwhelming, causing some students to feel lost or fall behind in their studies. Ian Anderson, an 8th-grade teacher, and basketball coach at Tippit Middle School, began his higher education career in a traditional college but found success at WGU Texas with their self-paced, competency-based learning model. Throughout his degree program, Ian's family and program mentors supported his journey. His brother was pivotal in helping him earn his WGU Texas degree in Interdisciplinary Studies and never let him stop believing in himself. If Ian ever felt a decline in his progress or needed some motivation, his team was there to cheer him to the finish line.
"I always knew I wanted to become a teacher and a coach and having a degree was a necessity," said Ian. "It was rough seeing my friends graduate and not having the degree or job I really wanted. WGU was vital for getting my life back on track and finally getting to the point where I want to be in my career."

Ian may have struggled with starting over or watching others move on while he felt stuck, but support from his family and finding the inner strength to believe in himself carried Ian all the way through his degree program. "Graduation was such an amazing experience, and I was so overwhelmed with emotions that day, but this time they were happy ones!" As a graduate of WGU Texas, Ian wants to continue working with children and being part of their journey. Ian is in his third year of teaching and practices social-emotional learning with his students and pays the support he received from his WGU Texas team forward. "For now, I enjoy teaching and coaching middle school. I love being part of building their foundation and watching them grow and do great things on and off the court."

If teaching is your calling and you have a passion to help students get the most out of their education, learn more about our bachelor's and master's programs in our Teacher's College. WGU leads the nation in producing STEM teachers and is the first competency-based online university to receive CAEP accreditation for its degree programs that lead to teacher licensure.