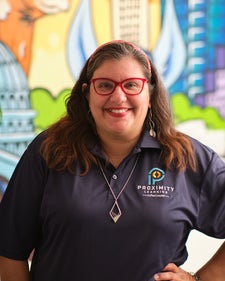 Competency-based learning allows students to achieve their dreams by using their past experiences as a springboard forward. Miranda Dilbert used her experience as a communication secretary for a preschool to fulfill her dream of being a teacher. Through her communications position and subsequent position as a teacher's aide, she gained classroom experience from Pre-K to 5th grade, learning the ins and outs of administration and the opportunity to learn from her teacher colleagues.

Miranda knew she wanted to earn her teaching degree, but with her children in elementary school, she did not want to be gone all day for work and then leave for class at night. That is when her husband recommended WGU Texas' Teachers College. Through WGU Texas, Dilbert was able to complete her coursework on her schedule. There was no driving to campus, finding parking and waiting for work to be assigned. Miranda was instead able to complete work when she wanted, schedule appointments with course instructors to ask questions and work with her mentor to achieve her learning goals.

After graduation, Miranda fulfilled her childhood dream and was hired as a third-grade teacher. After much success in her bachelor's degree, Dilbert quickly earned her master's degree in Curriculum and Instruction. With the knowledge she gained at WGU Texas, she created pacing guides, wrote curriculum, led professional development sessions, and onboarded new teachers. Miranda is also active on social media, having joined several WGU Facebook groups as a student. As alumni, she shares her experience and knowledge about WGU, connecting with other Teacher College students who may need a little extra advice. 

Now, as a Solution Specialist at Proximity Learning, Dilbert encourages others to attend WGU Texas and hopes to return to the virtual classroom herself one day. "I can't wait until WGU offers doctorate courses. I want to be the first to sign up!  I recommend WGU to anyone who is searching for schools." Miranda intends to continue working at Proximity Learning and use her WGU Texas experience to make a difference in people's lives.

If teaching is your dream job and you have a passion to help students get the most out of their education, learn more about our bachelor's and master's programs in our Teacher's College. WGU leads the nation in producing STEM teachers and is the first competency-based online university to receive CAEP accreditation for its degree programs that lead to teacher licensure.