When Jonathan Cearley of Kyle, Texas enrolled in WGU Texas in February 2018, he became the university's 10,000th student to enroll. In March, Cearley and his family joined hundreds of guests at the WGU Texas open house in Austin to celebrate the future of the growing university. "We're always excited to meet the students whose lives are being changed by the educational opportunities that WGU is providing," said Dr. Steven Johnson, WGU Texas Chancellor.
Like thousands of WGU students before him, Cearley had completed courses offered at a local community college, but knew it was time to move to the next stage in his educational journey.
For 12 years, Cearley toured as a professional musician. When he married and started a family, life on the road was no longer feasible as a career choice. He began researching schools and degree programs. "Between a full-time job and family, the idea of successfully pursuing a degree became a challenge," said Cearley. His research led him to online universities—particularly those that offer competency-based education—and at the top of his list was WGU Texas.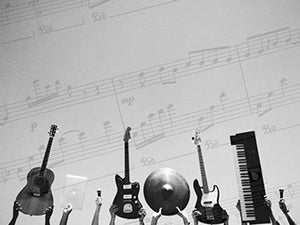 He admits to having reservations about attending a school that was entirely online, but the ease and thoroughness of the application process won him over. "I chose WGU Texas for my bachelor's because it fit within my life and busy schedule, and it was affordable—a perfect fit for my family and me."
Cearley is on his way to earning his bachelor's degree in education in Interdisciplinary Studies (Elementary Education). When considering which path to take upon returning to school, teaching was a natural choice. He comes from a family of educators—his parents and grandmother are retired teachers and he has several cousins, aunts, and uncles who are educators with whom he shares a passion for the profession.
As a teacher, Cearley wants to bring the powerful message of music to the classroom. He credits music teachers early in his life for his devoted interest in music. "My music teachers in grade school had a profound influence on me, and I would love to foster the same appreciation for music in my students as they did in me," he said. "When I graduate, my ultimate goal is to teach music."
The NAMM Foundation supports scientific research on the benefits of music in education, finding it an essential part of learning, while enhancing students' understanding and achievement in other subjects. These benefits become increasingly valuable as students face new challenges, form new friendships, and develop social and study skills.
Children who study music tend to have larger vocabularies and advanced reading skills than those who do not, and score higher on reading and spelling tests.
Students in high-quality school music education programs score higher on standardized tests compared to schools with deficient music education programs.
Students enrolled in quality instrumental programs score higher in mathematics and English.
Grade-school children who took music lessons scored higher on tests of general and spatial cognitive development—the abilities that form the basis for performance in math and engineering.
A study of 8 to 11-year-olds found that those who took extracurricular music classes developed higher verbal IQ, and visual abilities.
Children with learning disabilities or dyslexia who tend to lose focus with more noise may benefit from music lessons.
Music education sharpens student attentiveness, strengthens listening skills, and equips students to be creative.
Learning to play certain instruments (e.g. percussion) helps children develop coordination and motor skills and aids emotional and behavioral skills.
Music education supports better study habits and self-esteem. Schools with music programs have higher attendance rates.
Group classes require peer interaction, which encourages teamwork, collaboration, and communication.
Music connects us to others in amazing ways, bringing joy and creativity to the classroom. Music programs give students opportunities to engage, to perform and express themselves, and music education prepares students to problem solve more effectively, collaborate, share, be a mentor, compromise, and work together.
Best of all, music is a fundamental part of a well-rounded education.