Ronda was married with a six-month old daughter when her husband was killed in a car accident. The family was in the process of relocating to Houston, and her husband had left to Houston ahead of her when he was killed. In the blink of an eye Ronda's life plans were disrupted and she found herself stuck in her home town, a single mother with a baby, little work experience, and only had a high school diploma.
With a new responsibly of being the sole provider for her daughter, Ronda decided to attend cosmetology school knowing she could make a career out of health and beauty. For 18 years she owned and ran a successful salon and absolutely loved the industry. During that time she remarried and had two more children.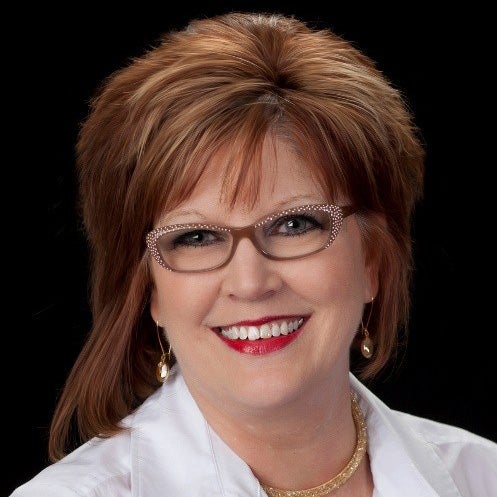 At 40 years old she began working through a few health problems and knew she couldn't run a salon for much longer. Ronda enrolled in a cosmetology instructor program to determine her next step. After discovering that it would only take her 750 more clock hours to become a teacher, a new career path became very clear. She was hired as the director of a proprietary school and also held the position of Cosmetology Program Coordinator at a community college in Arkansas before receiving a life changing call from Texarkana College.
In 2008 she began working as a cosmetology instructor, and a year later was promoted to director at the same college where she had her first start. Ronda's experience was a perfect fit for the college and she received four promotions within a few short years. Moving into management positions made her eager to further her education to ensure she stayed qualified — so she completed a B.S. in Business Management.
Working in higher education, Ronda was always aware of new competition and that is exactly what she thought when she heard there was a new school coming to town — WGU Texas. After a little research into the university, she became a night owl in WGU Texas' Master of Business Administration degree program.
"I hadn't thought too much about taking my education further than a bachelor's degree, but with so many doors continuing to open for me at the college, I really felt that I needed to further my education," Ronda said.
She says that everything covered in WGU Texas' MBA program was relatable to her job responsibilities — writing memos and other HR skills were things she was learning in her program and she was able to apply those skills at work the next day. "I feel like I became more accepted at work with an MBA," she said. "I was running in the same circle as deans and the president. My degree from WGU Texas gave me confidence in my abilities and I felt that executives had a new level of respect for me."
Ronda received several of her promotions while attending WGU Texas and also went through the grieving process after losing her father. She was on a mission to earn her degree and even if it meant working late into the night on her school's campus, she was willing to do it. Her parents never discussed education at home growing up, but Ronda set a precedent in her own home that her children would earn their degrees. She was the first person in her family to graduate from college with the exception of her three kids who beat her to it.
After earning her MBA in Management and Strategy in just under 14 months, Ronda was promoted to Dean of Workforce and Continuing Education where she is over Career and Technology. She works in the same building where she attended cosmetology school in 1982, and is now in pursuit of her doctorate degree.