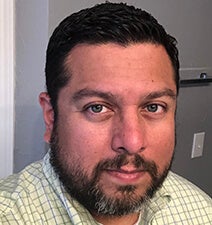 After earning his bachelor's from WGU, the benefits he reaped from that accomplishment pushed WGU Texas grad Pedro Ortega to pursue his Master's in Cybersecurity and Information Assurance from WGU. In 2019, he was selected as a graduate speaker for the Austin commencement. 
At a very young age, Pedro Ortega decided that school was not his "thing." His parents finished only some of their grade school education, and Pedro grew up in a low-income neighborhood that didn't place much importance on education. So, how did college become part of his plan? 
Although Pedro excelled in high school and graduated top of his class, his first semester of college abruptly broke his confidence when he failed his courses. So he dropped out and joined the workforce. But this plan also failed. It wasn't until he found himself living on the street that Pedro realized that education would be his key to success. 
Once he had his bachelor's degree under his belt, Pedro pursued and completed his M.S. in Cybersecurity and Information Assurance. He now serves as senior cybersecurity engineer at Concho Resources in Dallas, Texas.
We documented Pedro through interviews and photos during the commencement weekend. Pedro says if you're on the fence about school, just do it--you'll have no regrets, and if you're still on the path to a degree, persevere, you'll get there, just keep going.
If you're ready to make a difference in a career in cybersecurity, like Pedro, start by applying for a $5,000 Cybersecurity Scholarship and learn more about degrees and careers as a cybersecurity professional.
Pedro Ortega's WGU Commencement Address