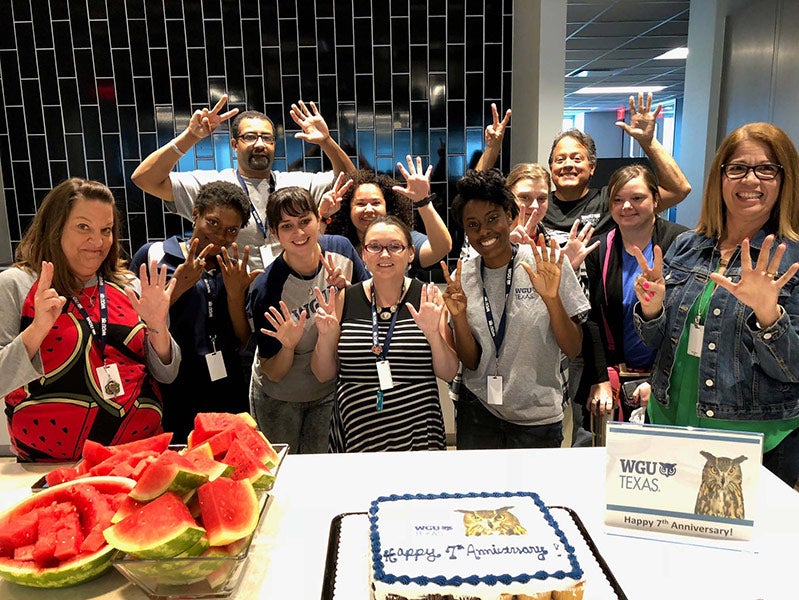 On August 3, WGU Texas celebrated its seventh anniversary! 
In 2011, Governor Rick Perry established WGU Texas to increase access to affordable, high quality postsecondary educational opportunities while also closing enrollment gaps across Texas. The ultimate goal was more Texans with college degrees and valuable experience for the workforce—and it is working. Since 2011, WGU Texas' enrollment has grown by 444%. 
In seven years, we've grown to more than 11,000 students and 9,000 graduates. 13 percent of our student population is military, 16 percent are community college transfers, 76 percent work full-time, and 42 percent are first-generation college students. To help make a college degree attainable for more Texans, we've awarded more than $810,000 in scholarships. 
On August 18, we'll take part in the WGU regional commencement in Austin with nearly 700 graduates from Texas alone. And this fall, we'll reach another milestone—our 10,000th graduate. 
"WGU Texas was created to meet the needs of working adults—the nearly four million Texans who have some college education and no degree," said Dr. Steven Johnson, Chancellor of WGU Texas.
"And seven years later, we are proud of the positive difference we are making in the lives of Texans who want to advance their knowledge, earn their degrees, expand their careers, and increase their earning potential," said Johnson. "Our students report significant income increases within a few years after graduation and new career opportunities that were not previously available." 
WGU Texas offers more than 60 bachelor's and master's degree program in business, information technology, teacher education and health professions, including nursing. Unlike a traditional college program, The WGU Texas academic experience is quite unique. Our competency-based education model measures learning, rather than time spent in class, allowing students to take advantage of prior learning and experience to move quickly through material they already know so they can focus on what they still need to learn. 
In 2021, WGU Texas will celebrate its tenth anniversary. We are grateful for the opportunity to help so many Texans change their lives, proud of our ability to put higher education within reach for more Texans, and cannot wait to see what the next three years will hold as we continue to assist individuals in achieving their educational goals and work to create stronger families, stronger communities and a stronger state.