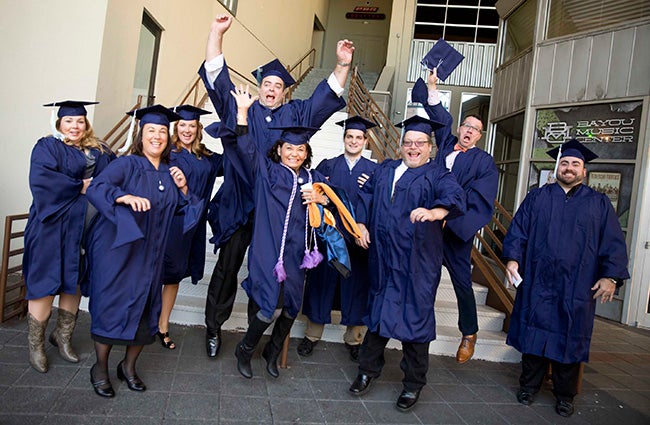 It was a big weekend for Night Owls in Texas, as more than 2,000 people gathered at the Bayou Music Center in Houston, Texas to honor a graduating class almost 900-strong. More than 270 graduates walked across the stage to personally accept their degree, the largest WGU Texas commencement to date.
The ceremony, led by WGU Texas Chancellor Veronica Vargas Stidvent, featured four inspiring student speakers who shared their personal journeys with their fellow graduates, and an address from Paul Hobby, founder and managing partner of Genesis Park, L.P.
"This commencement was especially meaningful because it celebrated 882 students who invested countless hours to finish their college degrees and improve their careers," said Stidvent. "We couldn't be prouder of their achievements, and we are excited for the future of the 2014 graduating class."
Enrollment at WGU Texas now stands at more than 5,700 students, with new students enrolling each month. At this year's commencement, the university conferred 561 undergraduate and 321 graduate degrees in business, K-12 teacher education, information technology, and health professions. WGU Texas graduates completed their coursework from 81 counties across the state this year, and many are the first in their families to earn a university degree.
The mission of WGU Texas is to make higher education affordable and accessible for all Texans, which helps improve and change their lives and the lives of those around them. The third annual commencement ceremony marked the graduation of more than 2,900 students since the university's inception in 2011.
Congratulations to all of the 2014 graduates!
Commencement Roundup
For more commencement videos, including the conferral of degrees and keynote remarks from Paul Hobby, view the complete playlist on the WGU Texas YouTube channel.