By Margaret Justus, Justus Communications
Swasso family As a wife and mother of nine children with a full-time job teaching middle school math, one would think Amanda Swasso of Canton, Texas doesn't have much time for anything else. However, Amanda Swasso is proving assumptions can be wrong.
Swasso recently completed her B.A. in Special Education through WGU Texas, the online, competency-based university and returned to WGU Texas to complete her M.A. in Teaching, Mathematics.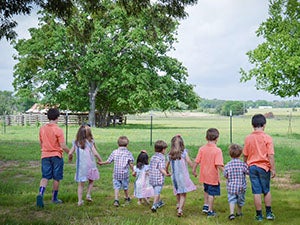 After a couple attempts of enrolling in community college and enduring several significant life turns, such as the birth of their two children, her husband's job change, and the enormous effort of adopting an additional seven foster children, Amanda Swasso is now earning her master's degree from WGU Texas.
How does she make it all work?
"I have an amazing and very helpful husband," said Swasso. "And if it had not been for WGU Texas and the flexible, competency-based program, I would never have been able to go after my goal to be a special education teacher.
"One of our sons was having difficulty communicating and after a year of working with various therapists and doctors, he was finally properly diagnosed and we were able to get him the help he needed, she said. "Today he is so much happier and healthier and on June 10, our son will 'graduate' from all his therapies."
Swasso says the work she and her husband did to help their son, inspired her to study special education. Now, after three and a half years of hard work, Swasso reports she is on track to complete her master's degree in the fall of 2017.
Texans thinking about pursuing a professional teaching degree like Amanda Swasso, may want to consider applying for a scholarship in conjunction with teacher's appreciation week. New and enrolling students can apply for scholarships valued at up to $2,000.  
Recipients are selected based on their academic records, financial need, and readiness for online study at WGU Texas, among other considerations. WGU Texas will also waive the $65 application fee for all scholarship applicants who apply by the scholarship deadline, just use the code: GOTEACH.