Amy Armstrong is the first person in her family to graduate with a master's degree. She spent years encouraging others to pursue higher education before deciding it was time to take the plunge for herself and her family. Here, she reflects on her roots and the obstacles she overcame to reach her goals, her tenure at WGU and how her passion for education continues to grow as she looks to the future.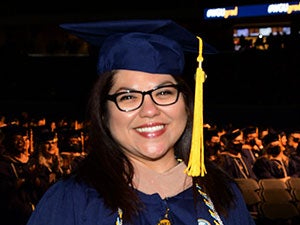 My background has always been in education—public school, state agencies, and higher ed. I started my family at a young age and have accomplished earning three degrees while raising a family.  Now that my children are grown, and I can focus on the next chapter in my life, I am seeking a position that will foster creativity and my passion for education.
How did you find WGU Texas and why did you choose our university?
Back in 2012, I learned about WGU from a close relative and later that same year I joined the organization. I've been employed with them ever since. I have held multiple roles throughout my tenure and earning my master's was always the goal. I chose WGU was because it was accredited, online, affordable, and competency-based.  For many years, I encouraged prospective students and colleagues to continue their higher education goals through the university because I believed in what we had to offer. I finally decided to take my very own advice!
What made you decide to get your degree at this point in your life? 
As I was looking to further my career, I knew this was going to be the way to opportunity. I felt as if I had plenty of experience with being a leader, even if I did not hold a managerial role. Earning my degree was exactly what I needed.  A bonus was that two of my siblings were also pursuing their undergrad degrees at WGU Texas, and I envisioned us being able to celebrate our accomplishments together. My vision came true when we all participated in commencement together!
Did you overcome any obstacles on the way to completing your degree?
What helped me most was not giving up, taking one course at a time, no matter how long it took, and not compare myself with others who were accelerating faster than me.
How was WGU Texas different than your other college experiences?
The biggest difference for me was attendance and engagement with students and instructors is through a community discussion board. That made it helpful to collaborate. Also, the flexible, self-paced model with the option to accelerate gave me the confidence to finish!
Now that you've finished your degree, what are your career plans?  
I hope to remain working at WGU until retirement. The university has grown exponentially just in the last six-seven years, and I am excited about the future. Now that I have my M.S. in Management and Leadership, I feel better prepared and more knowledgeable on how to get to the next level and beyond in my career.
Were there any barriers you've had to overcome? Who were your influencers, cheerleaders, and supporters?
Before enrolling in 2020, I had already enrolled and dropped twice! The first time, I was dealing with some personal obstacles and didn't want to add additional stress on my plate. The second time, I had been diagnosed with an autoimmune disease and did not know what my future would entail and could not imagine being successful in a master's program. But once I realized time was passing me by and my family would be there to support me no matter what, I decided it was now or never. 
Other than my children and husband, my recently deceased grandmother was my biggest influencer. Growing up in the 1930s she and her siblings were not allowed to ride the school bus because they were Mexican. They walked five miles to and from school every day to their ranch house. She only finished 2nd grade and then stayed home to help the family with household duties and tending the land. She always wanted better for her children and grandchildren and encouraged us to get an education since she was not able to.  She worked until the age of 72 as a custodian in our local hospital and passed away at the age of 89 from complications of Alzheimer's. My goal was to be the first person in my family, on both sides, to earn a master's degree, and I did!
What are your future career and life goals? 
My future career goal is to be working in a role that has a healthy work/life balance. That is very important to me and my family. One of our dreams is to purchase an RV and travel across the country together. I would love to travel and work remotely, so no matter what state I am in, I can continue helping students reach their educational goals.