Recently, WGU Washington hosted the second, featured event in its Community of Scholars Series program. That celebration took place at the Harmon Hub in Tacoma and recognized scholarship recipients from King, Pierce, Thurston, and Kitsap counties. Students and graduates from each of WGU Washington's four colleges — as well as their friends and family — enjoyed delicious food and drink and the opportunity to meet and mingle with fellow Night Owls.

Additionally, the university announced at the event a donation of school uniforms to the Tacoma Rescue Mission. The gift was made on behalf of all WGU Washington scholarship recipients from the South Puget Sound region. Through a variety of services, the mission helps create complete and lasting pathways out of poverty for Pierce County residents affected by homelessness. Julius Giron, a WGU Washington alum and volunteer at the mission accepted the donation. Local business and university partner Andrew's Promotional Group generously supplemented the donation of school uniforms with jackets, sweatshirts, and other clothing items.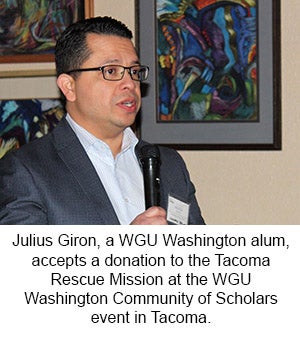 The goal of WGU Washington's Community of Scholars series is to strengthen the university's ties to communities across the state by recognizing university scholarship recipients, supporting local causes, and connecting students with other, ambitious and influential people in their area.

To see an album of photos from that event, visit the university's Facebook page. And, if you've been awarded a scholarship from WGU Washington, you're welcome to attend a Community of Scholars Series event in the coming months. Keep an eye on your email for an invitation to an event in your area. Below is a tentative list of cities the series will visit in 2018:

WGU Washington's 2018 Community of Scholars Series (cities, dates and months subject to change):
Seattle - April 20th 
Vancouver - May 21st
Spokane - June
Wenatchee - June

Everett - July

Olympia - August
Tri-Cities - September
Yakima - September