In Wenatchee, students, alumni, faculty, and staff — and Sage, the university's mascot — gathered together at Wenatchee Valley Brewing Company. They all enjoyed delicious pizza and a healthy dose of competition in a challenging trivia contest.
Six scholarship recipients were recognized that evening:
Christina Hansen, BS Business – Healthcare Management
Mihkaela Haag, MBA
Joel Swartz, BS IT Cloud and Systems Engineer
Ray Coble, MBA
Mihkaela Haag, MBA
Derit Watson, BS Cybersecurity and Information Assurance
Benjamin Hughes, BS Business – Healthcare Management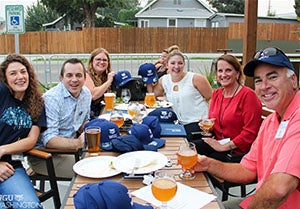 The Spokane event was held at Steam Plant. Attendees, including WGU Washington Chancellor Tonya Drake, celebrated together in the shadow of the two, iconic stacks towering over the city's downtown core.
To see pictures of the Community of Scholars Series events in Wenatchee and Spokane, visit the WGU Washington Facebook Page.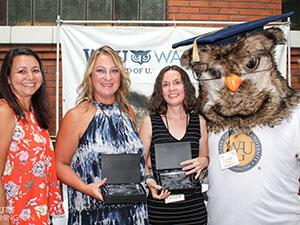 Among the scholarship recipients from the Inland Northwest recognized was Matt Heritage. Matt is pursuing a master's degree in elementary education. He was chosen by the university to receive the Level Up Teacher scholarship worth up to $2,000. He says he realized his love for teaching while working as a tutor, and, as an educator, he wants to impact the lives of young people and his community.
The Community of Scholars Series continues in the coming months with celebrations planned in Bellevue, Olympia, and Tacoma.