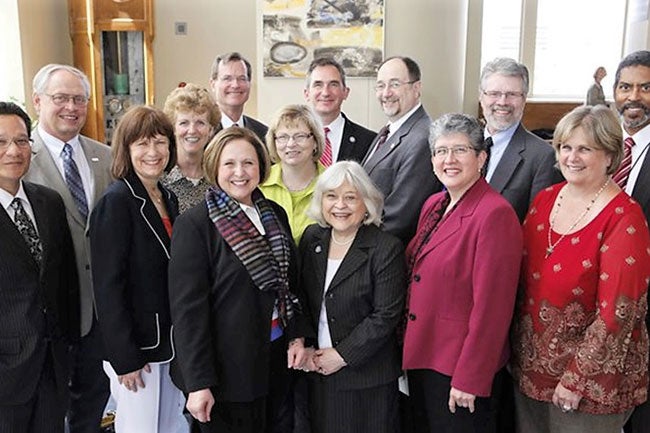 Leaders from across the state attended the WGU Washington launch ceremony in 2011, including many key figures from community and technical colleges.
Carl Orquiza's is always looking forward and working toward his goals.
"I love to learn," said Orquiza. "And I'm always curious what comes next, what doors will open for me."
He started his educational journey by earning an associate degree from Clark College in Vancouver, Washington. And Orquiza says that experience gave him the confidence to enroll in a degree program with Western Governors University.
"My time in community college taught me what it takes to succeed as a student, and I know what it'll take to graduate from WGU."
Like Orquiza, many of the university's most successful students transferred from community and technical colleges (CTC's). They generally enroll at WGU prepared, ready to do the work, and with clear education and career objectives in mind. And it's why the partnerships the university shares with CTC's and related organizations are so important to the communities they serve.
In Washington state, WGU is aligned with the State Board for Community and Technical Colleges (SBCTC), the organization overseeing the entire statewide system of 34 public CTC's. When lawmakers proposed legislation to create WGU Washington—the university's state-based affiliate headquartered in the Seattle area—the SBCTC provided important support for the bill.
"We did this because our adult, associate degree graduates needed a flexible, high-quality baccalaureate degree completion opportunity at a reasonable price," said Jan Yoshiwara, executive director of the SBCTC. "It became clear to us that WGU provides that."
Since then, the two organizations have formalized agreements establishing seamless transfer articulation pathways for all associate degree programs on every CTC campus in the state. That means WGU has articulation agreements with all 34 institutions—providing a straightforward, uniform, and equitable transfer process for nearly all CTC students across Washington. Additionally, WGU recognizes that CTC applied baccalaureate degrees satisfy the bachelor's degree requirements for most of the university's master's programs.
"I am proud to be a graduate of and transfer student from the Washington community college system, and I am excited to expand access for others across our state," said Dr. Tonya Drake, chancellor of WGU Washington and vice president of WGU's Northwest Region. "Our articulation agreement ensures students statewide get credit for their hard work at community and technical colleges. CTC grads who follow WGU's guided pathways may transfer up to 60 semester credits—evidence of the effectiveness of the partnership and the great work community college advisors do to prepare students to transfer."
"This partnership is fulfilling a real need in our state and making a difference for thousands and thousands of Washingtonians," said Yoshiwara.
Due in large part to that partnership and the SBCTC's continued support, WGU has enjoyed significant success in the Evergreen State. More WGU students and grads call Washington home than any other state in the nation. WGU Washington is the third most popular transfer destination for CTC students, trailing only the University of Washington and Washington State University. And in just the last three years, more than 4,500 CTC transfer students earned degrees from WGU.
And soon, Orquiza will count himself among the many who took the momentum gained at a CTC all the way to graduation at WGU.
"A bachelor's degree is on my bucket list," he said. "And whatever comes after it, I will embrace it with open arms."