By Jake Riddell, WGU Washington
To continue building on WGU Washington's long-standing relationship with Lower Columbia College, we are excited to partner together to expand opportunities for students to pursue higher education degrees without leaving Cowlitz County or making lengthy commutes.
The partnership is focused on helping more students, especially underserved populations, earn credentials to prepare them for entry into higher-paying, high-demand fields with value in the labor market.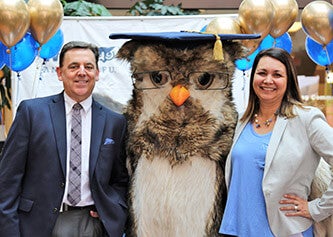 LCC President Chris Bailey (left) celebrates with WGU Washington Chancellor Tonya Drake and Sage, the university's mascot, during an event celebrating the enhanced partnership between the two institutions.
As a partner of each of Washington's 34 community and technical colleges, WGU Washington's enhanced partnership with LCC reinforces the university's commitment to student success.
WGU Washington Strategic Partnerships team members will be available to meet with students through LCC's Lower Columbia Regional University Center. Those meetings will be focused on advising needs to improve student success and program completion.
The partnership also provides WGU Washington students with access to on-campus amenities at LCC including the library, parking, dining, and gym facilities.
LCC students are able to earn bachelor's and master's degrees in nursing, business, information technology and teaching through the partnership with WGU Washington. LCC students will also be able to enroll in WGU Washington's master's programs in those fields.
In celebration, WGU Washington Chancellor Tonya Drake and LCC President Chris Bailey hosted a partnership kickoff on Wednesday, April 17 in the LCC library. Both Drake and Bailey delivered remarks, and WGU Washington representatives spoke with students about degree program options and answered questions.
"She [Tonya Drake] brings that knowledge of the demographics we service, the type of students we serve and the needs we have in the community," Bailey said. "I think she really understands how WGU will work with our students."