For many of us, an aspect of social distancing is doing our work at home. It means we've traded our cubicles for couches and business suits for sweats. However, if you want to work remotely like a boss, there are several do's-and-don'ts to consider.
In Part 1 of this series, we shared ideas for setting up a workspace at home, effective time management, and becoming your own IT helpdesk. Now, based on the wisdom of WGU's remote workforce — including program mentors and instructors — we're providing another batch of advice that will help you win at working from home.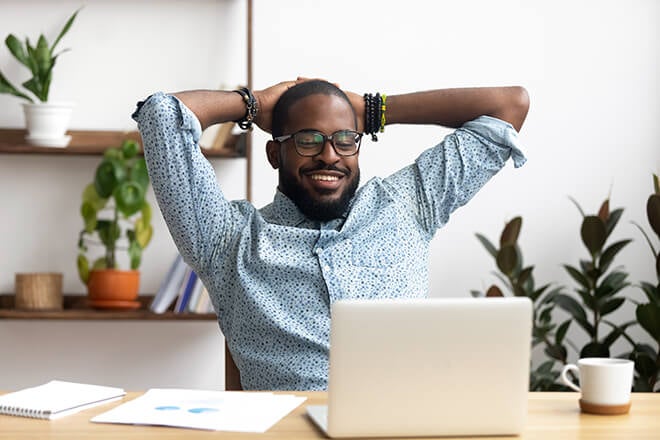 Remember healthy practices.

Working from home doesn't mean stop working on yourself. It's important you keep eating right and exercising — and make it a point to socialize with friends and colleagues. 
For many, remote status means unfettered access to the pantry and fridge. To keep from binging on chips and cookies, spend part of your off-hours doing meal prep. Think sandwiches, salads, fruits and vegetables. Having healthy, prepared foods easily in reach is not only good for you, it allows you to spend less of the workday in the kitchen.

So, with less time in the kitchen, you can check another important, healthful item off your list: exercising. Not only does working out help you stay fit, it improves thinking, learning and judgment skills — all things your boss is counting on while you work from home. Many WGU employees emphasize the need for setting breaks to get outside and give your eyes a rest. Schedule your normal lunch and extra breaks when you plan your work week.

WGU evaluator Priscilla Smith and instructor Nina Rupert both use breaks during the day to practice yoga. YouTube, Prime Video and Facebook are common sources for videos to guide your yoga practice. And WGU IT program chair Jason Madrano incorporates walking into his work day.

"I love taking walking meetings, even when working from home," says Madrano. "I put my bluetooth dongle for my headset on a long USB extension cord to maximize range, and I walk around the house while attending meetings or discussions. With the extension, I can even go walk in the backyard and still maintain good connection. Walking helps my blood flow."

Exercise also helps mood and stress management, which is extra important during significant periods of disruption. Generally, loneliness and stagnation are common problems for many remote workers.

"Don't isolate yourself in your work," says WGU evaluator Tara King. "Take regular breaks to stretch and just speak to another person in your home." 

Maintain good communication.

We might not appreciate how often we hit up colleagues for advice or to talk through ideas until we're no longer down the hall from each other. Experienced remote workers know phone calls and emails can't completely replicate that in-office connection; constantly answering your cell and stalking your inbox can slow productivity and take focus off what matters.
Instead, opt for a system that is more immediate and won't overwhelm your email account. Many organizations use platforms with multiple features — chat, video conferencing, and project coordination. Some recommended programs, including free options, can be found below.

Once you've selected a system, keep your regular team meetings, but use your webcams. Even if you're a little camera shy, sharing your face on screen helps maintain connections with your co-workers and, in turn, manage feelings of isolation. And trust the discomfort of being on camera will go away quickly.

How you interact during video meetings will drive successful outcomes for you and your team — and don't underestimate the value of friendly chit-chat. 

"I always open meetings with brief 5-10 minutes of purely socialization time," says Madrano. "It keeps everyone connected on the human level. Sometimes we ask for participants to share 'wins' from any part of their lives, personal to professional."

 After that, treat your online meetings as you would if everyone was in the same room.
"Definitely have an agenda and stick to it," says program mentor Wendy Irlbeck. "Also distribute notes from meetings and 'next steps' to everyone afterwards."
Without great communication, remote workers can easily end up working in a vacuum, so make sure you're providing your teammates updates on your current projects. When we keep quiet and don't share, we tend to overwork just to prove we're using your time wisely. That can quickly lead to burnout. Additionally, we might miss out on constructive feedback and support from co-workers. If they don't know what you're working on, how can they offer to assist?

Great collaboration tools for remote workers.

The following table compares and contrasts many of the top video conferencing platforms for remote workers and teams. 
Yes; No for some features