Marta Tubielewicz isn't average at anything: Wife, mother, WGU employee and master's degree graduate and, now, accomplished mountaineer. 
A transplant from Utah, Tubielewicz was searching for new adventures and a way to enjoy all the many activities Washington state has to offer.

"In Utah I always had plans, but I found I had a huge hole I needed to fill after the move to Washington," Tubielewicz said. "I needed something new—new plans, new goals."

That new goal and new adventure turned out to be one of her biggest challenges—summiting Mount Baker's nearly 11,000-foot peak with an all-female team and guides with AWExpeditions.

It's All About Preparation

One of the motivations for Tubielewicz was proving to herself and others that she was strong enough and prepared to do the long and arduous trek to the top of Mount Baker, regardless of the physical obstacles—like treacherous glaciers—or the emotional ones like her husband's and friends' concerns.

Tubielewicz's training started on a treadmill in her garage. She wanted to ensure she had the endurance to walk uphill for hours—nearly seven hours as it turns out. She also dug into online mountaineering resources.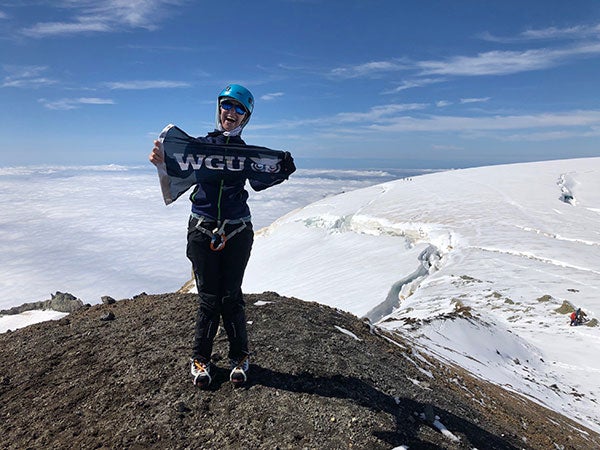 She then advanced to step-ups on a box with heavy weights and doing stair training with her 40-pound pack up and down 215 stairs. She trained for an hour at a time and slowly built up to two hours. She also incorporated hikes up Mount Si in eastern King County.
"The hikes up Mount Si created a sense of community. A lot of people hiking there were also training for their summit goals," Tubielewicz said, noting that having others around with the same or similar goals motivated and encouraged her to keep going.

The final training hike took Tubielewicz to Camp Muir in Mount Rainier National Park. At a little over 10,000 feet, Tubielewicz said Camp Muir allowed her to experience the high altitude and any effect it may have on her. It also allowed her to get the feeling of walking on hard-pack snow like she'd encounter on the glaciers on Mount Baker. 

Fighting Through Fear

If anything, the training illustrated to Tubielewicz the true danger of a hike at altitude, in technical gear and with a 40-pound pack to carry, while being roped to two other hikers.

"I encountered a lot of concern for the hike—maybe it was too dangerous, maybe I'm not strong enough. I will have to carry a 40-pound pack and I have a steep learning curve," Tubielewicz told herself as the expedition date moved closer. "But, I also believed I could handle all the obstacles ahead and knew I would show everyone I could do what I set out to do."

It turns out, the training and the fear were both well-founded. 

The first day's hike up to base camp was incredibly challenging, Tubielewicz recounted. "There wasn't much hope to summit the following day because the weather was so bad – wet and raining – but the guides still went through the snow training with us." 
This meant hiking on snow with crampons attached to their boots, which adds another element of difficulty and danger. 

"It all changes when you put on crampons," she said, noting that it was at that point she truly realized the difficulty of the impending climb.

The second part was ice axes and arrests. "It seemed fun at the time, but when I thought about it, the consequences of not having the ability to arrest yourself in a fall on a glacier are deadly," she said.

The Climb, Lessons Learned

Tubielewicz said she could not sleep as she waited for the early morning hours when they would wake to start their climb in the dark, with only headlamps to light their way.

She was keenly aware that one wrong move, one important piece of gear left behind and her climb would be over.

"I was thinking a lot about a packing strategy—what to take and not take," Tubielewicz recalled. "The last thing you want is to forget something critical, which could mean being turned around by the guide due to the risk, or something worse."

But, she said, she was also thinking of the beauty of what she would see.

"With that beauty was a lot of danger," she said, which was punctuated by the stern warning from her experienced guides as they headed out on the long hike to the summit. "When crossing the crevasse bridge, our guide said, 'if somebody falls, we all need to shout 'fall' and everybody needs to self-arrest with their ice ax and then fight like hell.'

"It was a good reminder that I came here for myself, but we may all be in a position to fight for the life of someone else."

In all, Tubielewicz and the team of nine women and guides, navigated challenging terrain for nearly seven hours roped together in groups of three with just one guide per group. 

When the summit was in sight, everyone stopped to take in the reality of reaching their goal of a safe summit attempt.

"It felt amazing—when we walked up Ramen Wall, the most difficult part, we walked through the field of snow and saw the clouds below us and summit in front of us. We felt relief," Tubielewicz said.

At that point, she said she turned to her guide and said, "All I want is to safely get to the summit." To which the guide responded, "I want you to safely get to the summit and then safely get down the mountain." 

The all-women team reached the Summit safely.

"There was a silence when we arrived at the top, then we all expressed our joy," Tubielewicz said. "It was sunny and hot and while we enjoyed the forty-five minutes at the top, we knew we needed to get down the mountain before the snow melted into slush and created a more dangerous descent."

Tubielewicz said everyone was "all smiles and maybe a little sunburned, too" as they headed down the mountain.

'You can do anything you set your mind to'

We all face challenges, Tubielewicz acknowledges. As a mother of two, a wife and a full-time employee at WGU Washington who just completed her master's degree from WGU Washington, she is no stranger to obstacles. But, she adds, "if you set your mind to achieve your goal, anything is possible."

"I was really proud of myself. I knew I was physically prepared for this and I was hoping I was mentally prepared for the six-plus hour climb," she said. "I proved to myself, and everyone who doubted me, that I was right; I was ready for the challenge before me."

Asked what she would tackle next, Tubielewicz said she's not quite sure, but she knows now she has a deep love of mountaineering.

"It's a great region to do different outdoor activities," Tubielewicz said, noting she has a lot of work to do before she takes on the next mountain. "I want to be a better climbing partner on my next journey. I plan to take some courses like avalanche preparedness, first responder training and some mountaineering courses. It's all about building my skills."

If anyone knows what it means to commit to building skills and giving her all to her goals, it is clearly WGU Washington's own Marta Tubielewicz.