What did your educational journey look like?
I attended Whitworth College as a freshman then transferred to Spokane Community College (SCC) for a year to finish my AA-DTA. I did this because I wanted to pay for college and SCC was more affordable. I went back to Whitworth and finished my BA. After 5yrs, I went back to SCC to talk with a counselor about their Nursing program and ended up connecting with the Counselor and talking about her education, degree and job.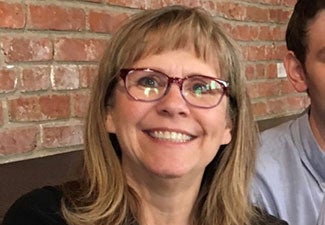 She was a community college graduate as well and then got her masters to work for SCC. I loved her story and I loved my experience at a community college, so I went to Gonzaga University for my Masters in Counseling Psychology. Two years later I graduated from GU and applied for a job at SCC. I just finished my 34 year as a Faculty Counselor at SCC.
If applicable, how does your Community College's partnership with the university make your transfer process more manageable (easier)?
I realized shortly after starting at SCC, that partnerships with universities made students' lives easier and enhanced their experience by connecting them to university advisors early in their educational journey. By looking at the end goal and working backwards makes the process smoother and the transfer more seamless. If the plan was to get their bachelor's or master's degree then from the university and the need to coordinate the entire journey. Western Governors University (WGU) was an easy partnership to establish since they had the same mind set. I was at the first meeting between SCC and WGU and have been working closely with them ever since. The partnership has only strengthened over the years and many of our students have successfully transferred to and graduated from WGU.
What advice would you give a Community College student thinking about their transfer options?
It is important to determine what their educational goals are earlier so they can plan out their path and not spend time taking courses not needed for their degree. I always suggest starting from the end goal (which degree they want) and working backwards will help ensure their success. It is also important to decide where they want to transfer to, so they can make sure they are on track when they transfer. They need to take into consideration what kind of university they want to attend: online, on ground, big, small, liberal arts, STEM focused, etc. If they choose online, does the university have support services to help them be successful, staff that care about their students, and regional accreditation. (WGU has all those things!)
What advice would you give to a someone thinking about going back to school?
Decide what the end goal is for going back to school: getting a specific job, gaining skills in a particular area, advancing in their current job, self-improvement, self-fulfillment or a combination of these. When they are clear about why, they will be more motivated to finish. They need to do research to determine what is needed to reach their goal, how long will the degree take, what courses are required, how are the courses offered and does the structure fit with their current job, life commitments, etc. By doing these things ahead of time, students are clear about their education and tend to be more successful. Finally, knowing they don't have to do this all alone. There are people to help them work through these things and support them along the way. They are not on their educational journey alone. Understanding that there is never a dumb question and asking for help does not show weakness or lack of direction. As a first-generation college student myself, I thought I would look dumb if I kept asking questions, but I only made my journey longer and harder by not reaching out for support. These resources are in place for a reason, and they should use them.