It's a new year—the perfect opportunity for new opportunities and experiences, such as pursuing a degree! To inspire you, we want to share Darcy Burner's impressive and diverse career and education background story.
Graduate Name: Darcy Burner
WGU Washington Degree: Masters in Business Administration
Graduation Date: June 2017
Time to Complete the Program: Two years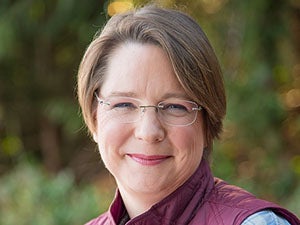 Education and Career Background: 
Darcy attended Harvard as an undergrad, earning a bachelor's degree in computer science. She then began a career in software working at Microsoft and shifting into a marketing role. In the early 2000s, Darcy was enrolled in the University of Washington's law school; however, she decided to leave her studies to enter her first political race. Darcy was inspired to pursue a career in politics and ran a non-profit in D.C. that focused on a broad range policy issues before running for Congress in 2006, 2008 and 2012.
Why WGU Washington?
In 2013, Darcy was helping her son with a school project that involved creating goods and trading them with classmates. Her son demonstrated a clear passion and excitement for the project, so Darcy continued to support it over the summer by helping him at farmer's markets and creating an Amazon merchant account.
Much to her surprise, orders continued to flood in and revenue grew. Suddenly this school project was a viable business. Though Darcy had a successful career up until this point, she felt an MBA was necessary to successfully run the business.
As a working mom, she knew a traditional program would not work for her. That's when she found WGU Washington. The program enabled her to leverage previous education and experience to move quickly through courses she understood, while spending additional time learning about topics that were foreign to her, like operations and finance.
Today, Darcy and her son are operating a thriving business and her son was even named to Forbes 30 Under 30 list this year.
Favorite Features:
While WGU Washington was a great option for Darcy for a number of reasons, including the flexibility it provided her as a working mom and the ability to leverage her previous education and work experience, Darcy notes that one of the best and most beneficial aspects of WGU Washington was the curriculum. Darcy was pleasantly surprised by the academic rigor as well as the thoughtfulness of the program, noting its relevance to real-world experiences and the support she received from her mentor.
She was also impressed by WGU Washington students. In partnership with other WGU Washington students, Darcy completed the Capsim business simulation project and her team earned one of the highest scores ever achieved by any team, at any university in the world.
Congratulations to Darcy—your story is an inspiration. We can't wait to see what else you accomplish!