Meet Makenzie Konty, a Cañon City School District teacher and WGU graduate.
How did you hear about WGU and what prompted you to enroll at WGU?
I heard about WGU from some former teachers who had done their programs here. I wanted to enroll so I could accelerate my degree and work part-time. 
What did you like best about your experience at WGU?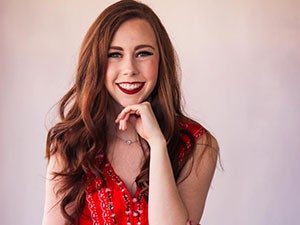 I loved the competency-based learning. I loved being able to work on my classes when it was convenient for me and being able to use my prior experience to quickly pass the class. I also appreciated how quickly I could receive help or guidance from the WGU faculty. 

What surprised you about your experience at WGU?
How quickly I was able to finish courses! As well as how willing the faculty, especially my program mentor and instructors, were to help guide me through the courses. Everyone generally responded within minutes or a few hours so my questions were always answered. 
What challenged you most about WGU?

I think the thing that challenged me most was getting used to taking proctored online tests. I have test anxiety so adjusting to the format of a proctored test was a challenge for me. 
What are your plans now that you've graduated?

I will be teaching first grade at an elementary school within the district in my small town. I plan to continue teaching in this district for the rest of my career. I am excited to share my passions with my students! 
How did earning your degree at WGU help you in your career?

By earning my degree through WGU I was able to work part-time as a paraprofessional at the school that has now hired me to teach first grade. Had I not been able to be flexible with my classes, I would have never been able to have that job. My program mentor was also a huge factor in helping me figure out how to secure that job. I am very grateful for WGU's flexible competency-based programs! 
How has your experience at WGU made a difference in your life so far?

My experience at WGU has helped me learn that if you set your mind to something, anything is possible. The staff at WGU helped me reach my ambitious goal of finishing my bachelor's two years ahead of my anticipate graduation date had I attended a standard four-year university. This has saved me a ton of money financially and has helped me kick-start my career. 
What advice would you give a community college student thinking about their transfer options?

I would definitely make sure you evaluate what your top priorities are for your education and find something that works for you and your lifestyle. Make sure that the programs you look at will take all (or the majority) of your credits before committing to them. I would also look at what courses you'll be taking and what your schedule will look like. Finances were also a big factor for me, so making sure you talk with the financial aid department before making a decision is important. It's truly hard to find a school that has as well established of a program like WGU. 
What advice would you give to someone thinking about going back to school?

I would say go for it. Find a flexible program that is willing to work with you so it doesn't totally disrupt your life! Education is so important and if it's something you've always wanted to do, what's stopping you? There are so many people within WGU who are willing and able to help you meet your goals! The amount of support you will have is tremendous! 
If you could talk to yourself your first week of school, what advice would you give yourself?

I would tell myself that the tests aren't ever as scary or hard as I thought they were going to be! Trust your knowledge and be confident, you are smart and will pass! And if you don't, your instructors are there to support you. 
Was there someone at your community college that was instrumental in your success?

All of my professors at Pueblo Community College. 
Describe the importance of your associate degree?

My associate's degree helped set my foundation to continue with my degree in education. It also allowed me to work within the school district while I finished my bachelors! 
How could WGU or your community college improve the transfer process?

I think on WGU's end being able to have a for sure answer about which of my credits would transfer to my program before I was committed to paying would help the transfer process. I also think the community colleges could also.
How did WGU's competency-based education model work for you?

Competency-based education allows students to use their prior knowledge to succeed in a course. It allows you to work at your own pace and learn the way that is best for you. It also allows you to accelerate your degree in whichever way you'd like. There are no assignments for grades or scary deadlines. You test out of the class whenever you feel like you are competent on all of the main subjects outlined within the course. I absolutely LOVE competency-based learning! 
What did you like best about WGU?

I appreciated the competency-based education model, how affordable WGU was, taking classes 100% online and the flexibility that gave me, and the mentorship I received.