Briana Driscoll Waldman knew in the second grade that if she wanted to make a difference in the world, she needed to become a teacher. Even then, she knew it was the best fit for who she was as a person. 
After 18 years of teaching, her commitment has only deepened through the pandemic, as she and fellow educators are being tested far beyond what they ever studied to do.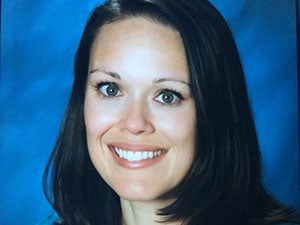 "People who get into teaching are passionate about helping and inspiring kids," Waldman said. "But now schools are a microcosm of society, where the needs of students have become much greater than just learning." 
The Spokane native and longtime John R. Rogers High School statistics teacher and instructional coach said today's teachers are sometimes surprised and often overwhelmed how monumental the needs are for some of their students. She mirrors the approach needed today to the Maslow Hierarchy of Needs, which provides a model for how students are motivated to learn.
The theory of motivation states that five categories of human needs dictate an individual's behavior, which include physiological, safety, love and belonging, esteem and self-actualization. Without the bottom layer of the hierarchy met, Waldman said the students cannot reach the next level. Each student can move up in the hierarchy with the proper support.
"So, along with giving them the education that they need to succeed, we're making sure they eat every day, have clothing and a place to sleep. Those are huge challenges for teachers, and that was before the pandemic hit," Waldman said. 
With a population of roughly 222,000 people in Spokane, Rogers is in one of Washington's highest poverty zip code. Sadly, that often translates to low graduation rates, followed by an even lower rate of low-income students who go on to college. That used to be the case for Rogers, whose graduation rate was formerly 47 percent. That rate has skyrocketed in recent years to 91 percent.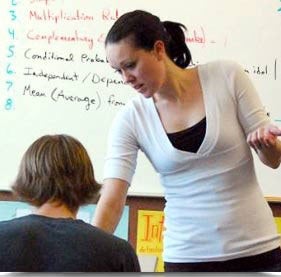 A lot of the reason the rate has risen is because of Spokane Public Schools and Rogers' commitment to break the cycle of poverty.
"Most of our students don't have the support that many kids do at home," Waldman said. "And often it's not from lack of trying or caring—it's because some parents or grandparents just don't have the resources."
In 2011, Rogers received a $4 million federal grant to improve its graduation rate and academics. In the years that followed, the district and school set out on a mission to decrease the gap between the number of students from high-income families and low-income families who go to college.
These combined approaches have resulted in more pathways to higher education, which is the touchstone of Western Governors University's (WGU) mission, and something of which Waldman is a huge proponent. She has worked with both WGU graduates and student teachers and often encourages others to pursue their teaching path at the online, non-profit university.

"WGU is a great program for pre-service teachers because it allows students the opportunity to get their credentials while maintaining other jobs," she said. "This is specifically beneficial for those people who are non-traditional students, with families, who still have to work full time."
For current educators, Waldman pointed out WGU's unique competency-based learning model, which allows teachers to quickly show mastery over content. 
"For teachers who have a limited amount of time to dedicate outside the school day, it's refreshing to have our expertise honored and valued, rather than making us dedicate time to something we already know. 
"Teachers I know who have gotten their master's through WGU have benefited from this model and have been able to attain their masters quickly, resulting in a much faster rise up the pay scale. Those educators who have pursued their admin credentials have also had a wider range of experiences than other programs."
As a full-time instructional coach now, Waldman is dealing with huge absent rates, often because of quarantines, shot and masks mandates—all while supporting many students who are dealing with a lot of complex trauma in their lives. 
"There's never been a time when students need us more. Data shows that more than 150,000 children under age 18 in the United States lost a parent or grandparent caregiver from Covid," she said. 
Waldman, who grew up without much money herself, said she cannot fathom having a different career than as an educator in a low-income school. She encourages people from all ages and backgrounds to become a teacher, especially those who are coming from other careers. 
"Their life knowledge is so valuable. Kids always relate to personal stories, and if they can see that you overcame a lot, then that will inspire them," she said. "If you can win the kid, then they will achieve at great levels for you." 
Known as Mrs. Waldman to her students, the now 39-year-old version of her second-grade self, Briana, still believes that the best way she could make a difference was to become a teacher. 
By Courtney Dunham, Communications Manager for WGU Northwest Regional Operations. For media or other inquiries, contact Courtney at 206.388.8926 or Courtney.dunham@wgu.edu