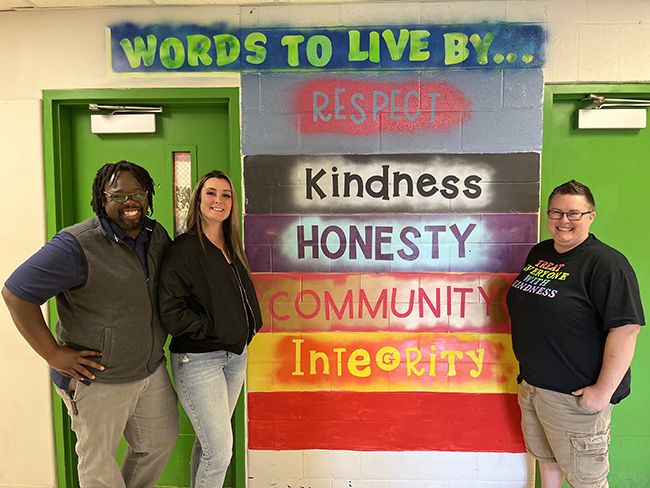 Damien Mills (left) and his co-workers at ReLife School in Puyallup, Dena Helme (center) and Sandra Cox (right)
Ralph Waldo Emerson once said, "The great teacher is not the man who supplies the most facts, but the one in whose presence we become different people." For three teaching colleagues in Puyallup, Emerson's words are a call to action—their mission is to show up for the kids who need their presence the most.
It is a mission that Damien Mills and his fellow co-workers, Sandra Cox and Dena Helme, take personally. They can relate to their students at ReLife School in a way that many others cannot.
ReLife isn't a starting place for high-risk students. It's often the end of the road for kids whom many others have given up on and whose families are often fractured for a variety of reasons.
The school, which is a program of the Puget Sound Educational Service District, is designed to address the academic and behavioral needs of students (Grades 2 - 12) with significant social, emotional, and behavioral disabilities.  
Mills, Helme and Cox know this reality all too well. Their personal experiences with childhood trauma and other barriers ignited their passion to change the lives of kids who are facing similar challenges. The three chose Western Governors University's (WGU) Teachers College as their pathway to fulfilling their goals. Helme and Cox are close to completing their teaching degrees. Mills graduated this past year with his Bachelor of Arts in Special Education and was selected to be a commencement speaker at the online university's national commencement ceremony ( WGU 2022 Winter Virtual Commencement - Graduate Speaker Damien Mills - YouTube)
Mills said his success with his students and colleagues begins and ends with relatable communication.
When he began his career as a behavioral education support specialist he knew some of his students had a hard time controlling their emotions and could get violent at times. He wondered how he would manage when the previous teacher had quit. He found the answer in personal connections with his students and an unwavering belief that with the right support, these students could blossom.
"How do you flourish when there's so much chaos around you? And how do you see hope when things crumble? I see hope in a lot of the kids that I work with, and I'm going to support them however I can," he said.
Reginald Reid, Ph.D., principal at ReLife, said students come here on a referral basis from their individual district special education departments. The eventual goal is to return them back to their home schools if possible.
Reid said the impact these three teachers have on the students is immeasurable.
"Damien has a story that could easily be the story of any of the students at ReLife. He has had to work through adversity in terms of a learning disability, and he has the tenacity to persevere through things that could have taken lesser people out of the profession," Reid said. "This is hard work, but it is also 'heart' work.  Damien, Dena and Sandra all have that."  
Sandra Cox understood even as a child what her destiny would be.
"I knew that I needed to be different than the people who were raising me," she said.
Cox and her colleagues continue to show up even after the days that they have been hit, sworn at and had any and everything in the classroom thrown at them. Why they choose to do it every day, even after the toughest encounters, is clear.
"The pandemic has been hard on all of us, especially educators. We have gone from being semi-important, to unimportant, to essential and being responsible for not only meeting the educational needs of students but all their basic needs," Cox said.  "It is a difficult, often thankless job that most people are unwilling to do. That is why I do it. If not me, then who?"
Cox understands her students' struggles, as she often "got stuck too" during her educational journey. While pursuing her degree, she took on a parenting role when her two young cousins were dropped off for a visit, and their parents never came to pick them up.
"I may not have birthed them, but I have experienced a lot of labor pains," she said. "I was now a single mom of two and taking care of my disabled mom, so school definitely wasn't an option."
After being a paraeducator for 15 years, she investigated going back to school at a local university, where it would take a minimum of three years to graduate.
"There was no way I could commit to that timeframe, spending all day in school and still support my family. I felt like my dream was unattainable and pushed it to the side," she said.
She eventually discovered the flexibility of WGU and joined Mills and Helme last fall at ReLife.
Cox's impact is something that is not always visible to the naked eye, Principal Reid said.  
"She simply has an energy and an aura about her that draws students in," he said. "Those meaningful relationships are the superpowers that allow her to do what she does."
When it comes to Dena Helme, relatability is what she does best, Reid added.
 "This allows her to have a compassion and an understanding for what they go through daily," he said. "One of Dena's greatest strengths is her ability to take her students' experiences and use the common areas from her own experiences to grow and reflect, and then in turn, use that knowledge to help her students grow and build capacity."
Helme knows firsthand what a difference a caring and committed teacher can make, as she endured childhood trauma and instability at home growing up.
"I had such an excellent support team of coaches and teachers who guided me to success, and I knew my job as an adult was to do the same for other at-risk youth," she said. "Children need love, reassurance, structure and attention, and I strive daily to build each child's confidence and purpose."
Helme tells her students that it's OK to be angry, but she helps guide them to a different, calmer way of centering themselves when the pain rises to the surface.
"I want to teach each child that they get to choose their path—their own story, and that whatever stress they go through will make them stronger. I want them to understand that they aren't bad kids—they just made 'bad choices,'" she said. "I can't describe the feeling of seeing a student who has been struggling for so long become successful, showing them their true potential."
Helme especially felt the impact she's had on those young lives when she herself became a parent and returned from maternity leave after the birth of her son.
"They said that I can never leave again!" she said, bursting with pride. "The rapport is crucial when it comes to making a connection with these kids. I tell them that I get it, but it's a new day and a new path you can take."
As these teachers continue to travel down this path with their students, they have found a universal medicine that often works better with their students than anything else they've learned—the power of a hug—and an unshakeable commitment to their chosen profession to become a teacher.
"When one of my students says, 'Thank you for being hard on me and not giving up on me, Miss Helme'—that reassures me that I chose the right career."
"If you can read this, thank a teacher."— American Proverb
By Courtney Dunham, Communications Manager for WGU Northwest Regional Operations. For media or other inquiries, contact Courtney at 206.388.8926 or Courtney.dunham@wgu.edu