Roughly a year ago, WGU Washington's current, annual topped 10,000 students for the first time ever. And recently, the university surpassed another, important milestone: graduating its ten thousandth student! That's 10,000 bachelor's and master's degrees awarded — and 10,000 lives changed by the awesome power of education.
Of all the go-getters to graduate from WGU Washington, the title of 10,000th Graduate goes to Rebecca Myers of Tacoma. A wife and a mother of three, Rebecca earned a master's in mathematics education while working full time as a second grade teacher.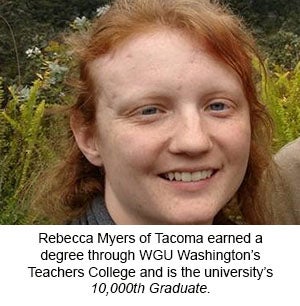 "The flexibility of WGU Washington was exactly what I was looking for," said Rebecca. "I would read articles and write papers at soccer practice, in the evenings when my kids were in bed, and on the airplane while on vacation. I even was able to use the computer in my hotel lobby several nights to complete assignments. Now, my degree means a base pay increase in my field regardless of my employer."

Rebecca's program mentor, Chris Whyte, says he was impressed by her commitment to her objectives.
"I enjoyed watching the steady and consistent progress she made on a weekly basis as she either met or exceeded her set goals," said Chris. "I think that Rebecca's success is largely attributable to the fact that she was willing to go the extra mile to meet with the course faculty."
Chris also shared what it means to him — and represented the sentiments of all of the university's faculty and staff — when anyone completes a hard-earned degree from WGU Washington.
"I love when students graduate, because it gives me great joy to know that I am a part of the process of helping someone to achieve their lifelong dream."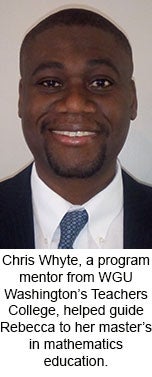 To celebrate each of WGU Washington's graduates and encourage future students to further their educations, the university is matching its largest scholarship offer to date with the WGU Washington 10,000 Graduates Scholarship. WGU Washington will award three scholarships worth up to $10,000 toward any of its more than 50 degree programs. Because of the university's reasonably-priced tuition, the $10,000 award could cover all or most of the tuition cost. 
Learn more about the WGU Washington 10,000 Graduates Scholarship here and by following @WGUWashington on social media