Graduating with "PhD's In Life".
Michelle Johnson, WGU graduate in M.Ed. Learning and Technology
If you ask high school English teacher Michelle Johnson why she wanted to teach, she'll tell you that one of the reasons has to do with the kids in the park, across the street from her school—the ones who've spent the night sleeping on picnic-tables.   
"We have kids who are homeless and sleeping in the park across the street and as soon as we open the doors in the morning, they're coming in to get warm," said Michelle who serves at Legacy High School, an alternative school in Kennewick, Washington, which works with youth at risk (adolescents who are vulnerable to problem behaviors, along with mental health disorders). "So many of them have overcome so many of life's challenges. I tell people all the time, my students have a PhD in life—they're just working on getting their high school diploma." 
High School Teacher Makes School a Haven for At-Risk Teens  
It's a scene that hits close to home for Michelle, since her little brother was an at-risk teen, too. The memory of that, along with a love for teaching, led Michelle to a career in education. That almost didn't happen though, when she nearly chose a different career path. 
"In high school, I took a survey and it said I should be a teacher. I was like, 'Teaching? That's not cool enough,'" she said. "So, I got my two-year degree in marketing, and then I learned I was not going to sell someone something that they did not need." 
However, when she started working at schools for some extra income, her life turned a major corner. Her passion for teaching swelled, and eventually, she became a paraeducator. Her colleagues noticed her knack for teaching, and encouraged her to earn her bachelor's degree and a position as a full-time teacher. She soon realized that not only could she teach, but she could continue to expand her career and become an education leader in her community.   
Michelle earned a Master of Education degree in Learning and Technology from Western Governors University's Teachers College. Now, she passes her experience working with at-risk youth onto her colleagues, too. She also steers other programs at Legacy High, as the leadership and yearbook advisor, test proctor and staff development coordinator. With that, she's helped Legacy High School evolve from being just a temporary program to a stabilizing school where at-risk teens can succeed. Further, she's initiated programs to help her poverty-stricken students, such as The Nest program. 
"My leadership kids run a homeless teen clothing drive where teenagers can donate to other teenagers," she said. "We have about 700 items of clothing, about 200 pairs of shoes, and we even have a section for teen moms where they can come and get free diapers, baby clothes, wipes and assorted stuff they need." 
Michelle's type of education and work is critically needed. According to the U.S. Department of Health & Human Services, (HHS.gov) adolescents in lower income families have negative academic outcomes, and almost one in five adolescents in the U.S. are living in families with incomes below the federal poverty line ($23,850 or less for a family of four with two children). These adolescents, according to HHS.gov, are more likely to suffer from behavioral or emotional problems and engage in unhealthy behaviors. 
Students with a range of challenges, from alcohol abuse to gang violence are referred to Legacy High. But generally, once these students receive the behavior interventions they need there, they stay to graduate.
"My little brother was this kind of kid," she said. "He was plenty smart enough, but the boy wouldn't do a lick of homework, made some poor choices in high school and came to school drunk one day. The only option he had was a six-month, half-day program you're sent to for misbehaving that was nothing about him learning the way he needed to." 
Michelle hopes that one day, she won't hear about teens sleeping on park benches anymore. She's working hard to help teens avoid that, and similar challenges at school that her little brother faced when he was in high school. 
"I really wanted to help kids like my little brother," she said. "I can't change what happened to him or his educational experience, but he had two teachers he looks back on and says they were the good ones, they were the ones that matter, and he still keeps in contact with them," she said. "I wanted to be that teacher for some other kid."
"I really wanted to help kids like my little brother."
Michelle has put her master's degree in education to work helping her colleagues find ways to reach at-risk youth in their schools.
Have a passion for kids? Check out Teaching degrees at WGU.
---
---
High school teacher Michelle Johnson has a passion for helping at-risk youth.
Know someone who's defying the odds to achieve their career dreams? A degree from WGU may be just what they're looking for. 
WGU endeavors to inspire personal achievement in education and leadership. We know that education is a catalyst for bettering the lives of individuals, families and communities.  

---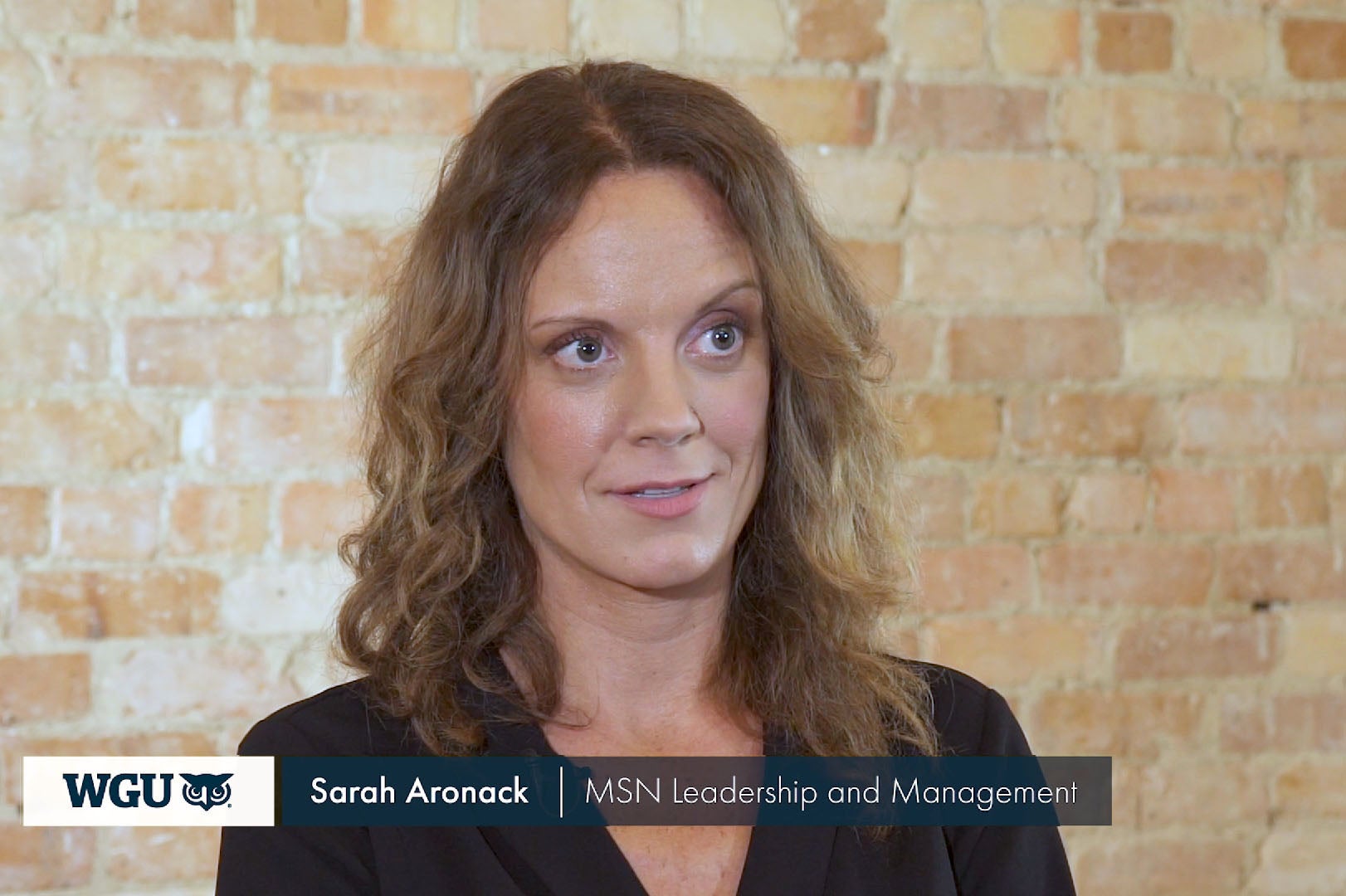 Sarah Aronack helped save an Alabama hospital.
Soon after becoming the Director of Nursing at a local hospital, Sarah found out that she had 30 days to change the hospital's policies or risk losing key Medicare and Medicaid funding, a move that would force the hospital to close. That enormous task became Sarah's WGU capstone project. 
Success in the Special Ed Classroom
"There is nothing more exhilarating than being able to set a goal for yourself. And realize that you have successfully completed it."
Julie Young shares her story about how she overcame her own disability to help her non-typical students. 

GRAD STORY: Competitive runner to running HR
From her time as a college-level track and field athlete to the challenges of earning a graduate degree as a wife, mother, and working professional, Connie Washington has always relied on her competitive mindset to defy expectations and achieve success on her own terms.
---
Four colleges, one university.
All of our degree programs are carefully chosen with employment and success in mind. Our special model of online-learning is designed for the working adult, and our commitment to keep costs down means better ROI for our graduates.