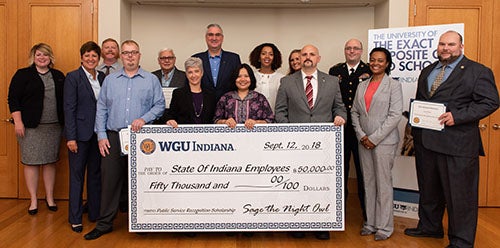 INDIANAPOLIS — As part of its commitment to statewide workforce development, WGU Indiana has awarded $50,000 in Public Service Recognition tuition scholarships today to 10 State of Indiana employees. Gov. Eric Holcomb and WGU Indiana Chancellor Allison Barber presented the scholarships during a ceremony at the Governor's residence.
"The State of Indiana is focused on connecting more Hoosiers with high-wage, high-demand jobs. WGU is helping us fill critical needs in key industries throughout the state. I'm grateful WGU offers our talented teammates these scholarships so they can pursue their dreams," said Governor Holcomb.
The 10 Public Service Appreciation Scholarship awardees are:
Diana Augustine, Family and Social Services Administration
James Brackin, Family and Social Services Administration
James Brewer, Indiana State Department of Health
Joshua Galyan, Family and Social Services Administration
David Grider, Indiana Department of Transportation
Amanda Hartman, Department of Child Services
Tamara Havics, Indiana Department of Environmental Management
Brittany Mitchell, Department of Child Services
Joshua Peltier, State of Indiana Department of Corrections
Larry Upchurch, Department of Workforce Development
"WGU Indiana is pleased to assist State of Indiana employees in reaching their career goals through degree attainment. The university's longstanding partnership with the State is a reflection our commitment to making higher education accessible to all Hoosiers, including those in public service," said Barber.