CHARLOTTE — As a One-Star Patriot Circle Partner, WGU North Carolina was invited to participate in the USO of North Carolina's Operation Exodus at Charlotte Douglas International Airport on Dec. 18. More than 3,000 service members enjoyed snacks, entertainment, hand-written cards, and other amenities in the USO of NC airport center as they passed through on their first trip home for the holidays.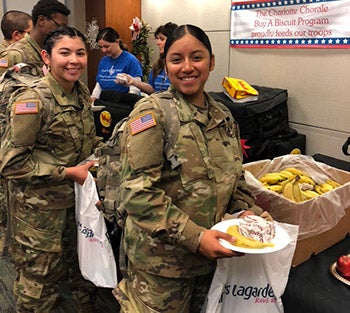 WGU North Carolina, an affiliate of the national nonprofit online Western Governors University, joined dozens of volunteers and other USO of NC partners such as Community Coffee, USAA, Verizon, Coca Cola Bottling Corporation and Albemarle Corp. in providing a festive and welcoming environment for the soldiers heading home from basic training at U.S. Army Base Fort Jackson.
Dr. Cindy Garcia, strategic partnerships manager, was on hand to greet the soldiers and distribute WGU-branded gifts. WGU has been recognized for 11 consecutive years by Military Advanced Education & Transition as a "Top School," and for seven consecutive years as a Military Friendly® School. Presently, about 18 percent of North Carolina students enrolled in WGU are affiliated with the military community, either as active duty, reserves, veterans, spouses or dependents.
WGU is an accredited online university offering more than 60 bachelor's and master's degree programs. The university has more than 110,000 students enrolled nationwide, including about 2,800 in North Carolina.
"It was an absolute honor to greet so many soldiers and thank them for their service," said Garcia. "WGU is a proud supporter of USO of North Carolina and will continue to support our men and women in the armed forces who are seeking to further their education."
For more information about WGU North Carolina, visit https://northcarolina.wgu.edu/.