AUSTIN — For the first time ever, WGU Texas' enrollment has topped 10,000 students. The online, nonprofit, competency-based university admits new students every month and February's total pushed enrollment to 10,069 — the highest since its launch in 2011.
Jonathan Cearley of Kyle is the person recognized as the 10,000th student. He started work on his bachelor's degree in Interdisciplinary Studies (elementary education) in February.
Cearley toured as a professional musician for 12 years. When he married and started a family, life on the road was no longer feasible as a career choice. He returned to school, completing courses at a local community college. "Between a full-time job and family, the idea of school became a challenge," said Cearley. "I chose WGU Texas for my bachelor's because it is online, affordable and fits into my busy schedule—it was the perfect fit."
Cearley comes from a family of educators, including his parents, so teaching is a natural choice. "My music teachers in grade school had a profound influence on me, and I would love to foster the same appreciation for music as I have," he said. "When I graduate, my ultimate goal is to teach music."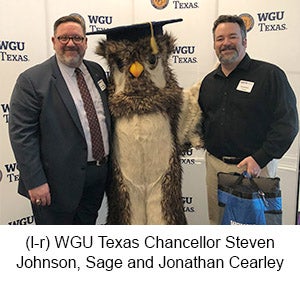 In March, Cearley and his family joined hundreds of guests at the WGU Texas open house, where he was recognized as the 10,000th student. "We're always excited to meet the students whose lives are being changed by education," said Dr. Steven Johnson, WGU Texas chancellor. "Since 2011, WGU Texas has played an important role in putting higher education within reach for more Texans to gain new knowledge and skills, and create better lives for themselves and their families."

In 2017, WGU Texas awarded degrees to 1,995 students from 129 counties across the Lone Star State. Since the university's launch in 2011, more than 8,198 graduates have earned their undergraduate or graduate degrees through a variety of academic offerings, helping to address the state's critical workforce needs in high-demand fields such as IT, healthcare, business, and education. WGU Texas expects to reach another milestone by awarding its 10,000th degree later this year.