KENT —Today, WGU Washington announced the appointment of Bill Poppy to the online, nonprofit university's advisory board. The advisory board, in collaboration with the chancellor, helps guide the strategic direction of the state's only legislatively-endorsed, online university. Poppy has been a leader in the healthcare industry for more than four decades, with specific expertise in leveraging innovative technologies to maximize positive patient outcomes.
Poppy is currently senior vice president of information technology and payer contracting at Virginia Mason Medical Center in Seattle, a position he has held for more than 18 years. Previously, Poppy served as CEO of the Rockwood Clinic, a physician and multispecialty group practice in Spokane. He also worked as the assistant vice president for IT for the University Administration and Hospitals at the University of Washington.
"Bill has been an influencer at several of our state's top healthcare organizations and built an impressive reputation in his field," said WGU Washington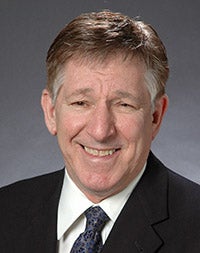 Chancellor Dr. Tonya Drake. "His knowledge of both the healthcare and IT spaces will be valuable as we continuously work to align our degree programs to workforce needs in both of those industries."
Poppy is an active member of the American College of Healthcare Executives, Healthcare Financial Management Association, and the American College of Medical Practice Executives. He has served on several boards prior to joining WGU Washington, including the Seattle Economic Development Council, One Health Port, the Spokane Chamber of Commerce and Economic Development Council, Visiting Nurses Association, and the Intercollegiate Nursing Association.

WGU Washington's Advisory Board was established in 2011 to provide counsel to the chancellor on state-specific needs and trends and to help shape the direction and continued success of the university. In addition to Poppy, the advisory board consists of:
Marty Brown, Retired Executive Director, Washington State Board for Community and Technical Colleges.
Don Brunell, Partner, Brunell Creative; Former President, Association of Washington Business.
Al Davis, Principal, Revitalization Partners.
Dr. Michael Dunn, Superintendent of NorthEast Washington Educational Service District 101.
Phyllis Gutiérrez Kenney, Former State Representative, VP of Leadership and Economic Development, Sea Mar Community Health Centers.
Jean Hernandez, President Emeritus, Edmonds Community College.
Steve Mullin, President, Washington Roundtable.
Dr. Kathleen Ross, President Emeritus, Heritage University.
Mike Schindler, CEO Operation Military Family Cares and Co-Founder at Integrated Telehealth Solutions WA.
Dr. Samuel H. Smith, President Emeritus, Washington State University.