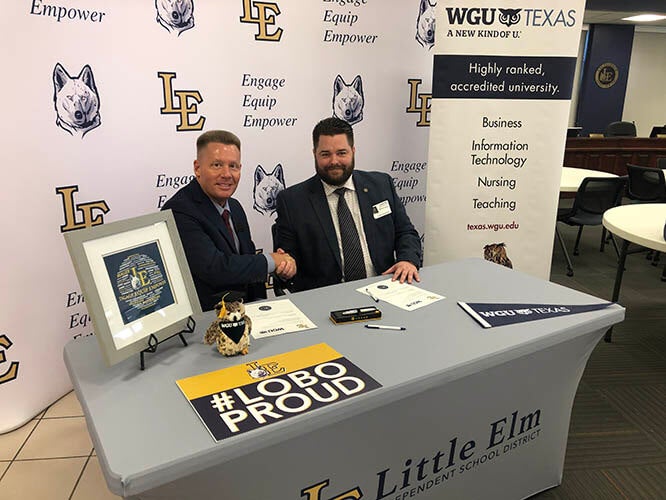 Little Elm ISD Superintendent Daniel Gallagher and WGU Texas Manager, Strategic Partnerships Michael Glazebrook sign partnership agreement.
LITTLE ELM – WGU Texas and Little Elm ISD launched a new partner agreement Thursday, September 5 to create seamless transfer pathways for Little Elm ISD employees who want to earn their bachelor's or master's degree with WGU Texas.  
"This collaboration creates an important new educational pathway for district employees," said Daniel Gallagher, Little Elm ISD Superintendent. "Working together with four-year institutions, we can provide educational opportunities that will further advance the education of employees in our community."
The Little Elm ISD encompasses 40 square miles in the southeast corner of Denton County and serves students who reside in the communities of Little Elm, Frisco, Hackberry, Lakewood Village, Oak Point, and The Colony. Little Elm ISD currently enrolls nearly 7,400 students in five elementary schools, a K-8 campus, a sixth grade center, a middle school, and one high school. Through the agreement with WGU Texas, Little Elm ISD employees may select among the more than 60 accredited bachelor's and master's degree programs in information technology, business, health professions and teaching. Transfer students also receive special benefits including:
5 percent discounted tuition at WGU Texas,
Exclusive partner scholarships, valued at up to $2,000,
Comprehensive transfer policy. 
"WGU Texas is delighted to assist with district employee development goals," said Dr. Steven Johnson, Chancellor, WGU Texas. "This partnership creates an opportunity to provide accessible, affordable, high-quality educational opportunities for working adults that lead to great outcomes."
WGU Texas' current enrollment is 12,800 students with students enrolled in 233 of the state's 254 counties, including more than 600 students in Denton county and the six communities served by Little Elm ISD. 75 percent of WGU Texas students hold full-time jobs.
More information about the partnership is available on texas.wgu.edu/littleelmisd and texas.wgu.edu websites.