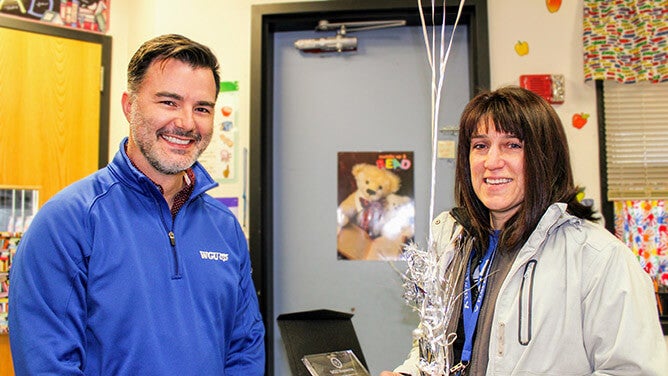 Kim Maners, right, was awarded a $2,500 WGU Washington scholarship.
ELMA – This morning, WGU Washington presented Elma School District employee Kim Maners with the "Become a Teacher Scholarship." Maners is pursuing a bachelor's degree in elementary education from the online, nonprofit university. Valued up to $2,500, the university made the scholarship available to encourage working paraeducators to become credentialed teachers.
Maners currently works as a paraeducator at Elma Elementary. Her scholarship will help her achieve her long-held dream of becoming a teacher and making a more significant impact on students' success.
"It's exciting for me to have this career, to influence those kids every day, and be that bright spot for them," said Maners. "It's exciting to know the kids I work with here get to see me go back to school, and I can actually say 'I know this is hard, it's not easy, you're going to get through it.'"
During a brief ceremony at Elma Elementary, WGU Washington staff surprised Maners with the news. Principal Mark Keating and several of Maners' colleagues helped organize and were on-hand for the presentation.