KENT – For more than 35 years as a leader in higher education and mentor to aspiring information technology professionals, WGU Washington inducted Jeanette Smith-Perrone into the university's Sage Society. Like a Hall of Fame, the Sage Society honors individuals instrumental in the academic and career success of others.
Smith-Perrone served as program chair for the Networking and Cyber Security program at Tacoma Community College (TCC) from 2009 to 2017. During that time, she evolved the department to meet changing workforce needs and increased enrollment from 15 students to more than 100 full-time students per year. She performed outreach into the community to connect veterans with opportunities in tech-focused fields.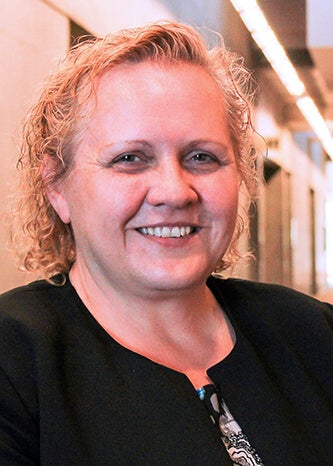 Throughout her career, Smith-Perrone has been a champion for innovative learning technologies and the expansion of access to in-demand postsecondary educational programs. Today, she is a professor at TCC, internationally-recognized speaker, and trainer and designer for the Blue Origin Engineering Center of Excellence.
"TCC is key to the development of Tacoma's workforce, in part, because of the outstanding hard work and dedication of Jeanette Smith-Perrone," said Angelica Hildebrandt, strategic partnerships manager at WGU Washington. "Jeanette helps build relevant programs and encourages students to pursue careers in STEM-focused occupations. Furthermore, she recognizes that individuals have different needs – and promotes a spectrum of learning modalities to foster student success."
Smith-Perrone was inducted into WGU Washington's Sage Society during a brief ceremony this afternoon on TCC's campus. Those in attendance included Mary Jane Oberhofer, associate dean of TCC's Business program and Sergio Hernandez, the current program chair for the Networking and Cyber Security department, as well as TCC students and faculty and WGU Washington staff.