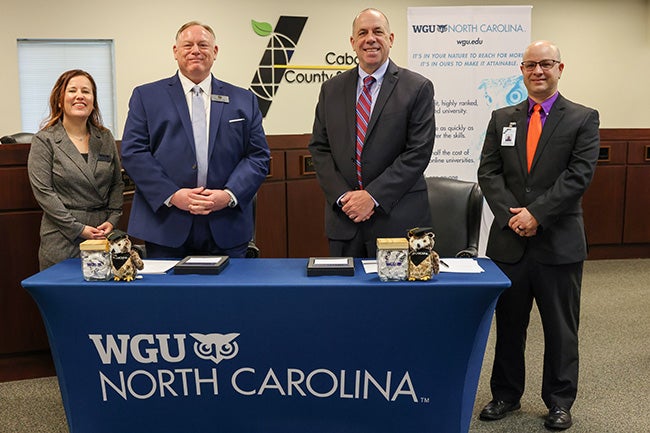 L-R: WGU NC Strategic Partnerships Manager Diana Hurtado, WGU NC Chancellor Dr. Ben Coulter, CCS Superintendent Dr. John Kopicki, and CCS Director of Human Resources Dr. Michael Williams.
CONCORD, N.C. — staff from Cabarrus County Schools gathered at the district office in Concord to witness the formation of a new partnership. Superintendent John Kopicki, Ed.D., and WGU North Carolina Chancellor Ben Coulter, Ed.D., formally signed a partnership agreement for the accredited online university to provide flexible, personalized learning pathways for CCS staff who wish to pursue bachelor's or master's degrees through the university. WGU North Carolina is the state affiliate of nonprofit Western Governors University.
CCS staff can also apply for WGU's K-12 Partner Scholarships, valued at up to $2,500. WGU will provide webinar training, print and digital materials to CCS employees to ensure an understanding of the educational opportunities at WGU.
"We're excited to partner with Western Governors University and open a pathway for our current employees to extend their education," said Dr. Kopicki. "Our school system values lifelong learning, and we commend Dr. Coulter and his staff at WGU North Carolina for allowing our employees to further their education at their own pace and in an affordable manner. We look forward to a long partnership and are excited about the opportunities for advancing the education of our teachers and staff through WGU North Carolina."
"One of our high privileges is partnering with innovative school districts like Cabarrus County Schools and enabling opportunities for employees to pursue their educational journeys," said Dr. Coulter. "Our online, asynchronous platform is an excellent fit for teachers and staff who want to continue their education affordably and at a time that is convenient for them. Our competency-based model also lets them accelerate through coursework once they've demonstrated mastery of the materials."
Founded in 1997, WGU is a fully accredited, nonprofit online university offering more than 80 bachelor's and master's degree programs in education, IT, healthcare and business. WGU is accredited by the Northwest Commission on Colleges and Universities (NWCCU). WGU's Teachers College is accredited by the Council for the Accreditation of Educator Preparation (CAEP) and the Association for Advancing Quality in Educator Preparation (AAQEP).
Tuition is around $4,000 per six-month term for most degree programs. WGU offers students the option to take as many courses as they want per term with the consent of their assigned program mentor. The university has more than 156,000 students enrolled nationwide, including more than 4,600 in North Carolina. Nearly 7,500 WGU graduates reside across all 100 counties in the state.
To learn more about Cabarrus County Schools, visit https://www.cabarrus.k12.nc.us/. For more information about WGU North Carolina, visit nc.wgu.edu.
About Cabarrus County Schools
Engaging minds and shaping futures, Cabarrus County Schools is among the largest school systems in North Carolina. Educating more than 34,000 students, the school system includes 20 elementary schools, nine middle schools, 11 high schools, and five non-traditional schools.