WESTERN GOVERNORS UNIVERSITY
WGU and Idaho: An Online University That Matches Your Ambition
WGU and Idaho: Partnering for Your Success

You started your educational journey—now it's time to finish it at WGU. If you earned your associate degree at a community college in Idaho, you can keep the momentum going and get your bachelor's at WGU. If you are a resident of Idaho seeking to receive a bachelor's or master's degree in top career fields, we can help you! WGU is proud to offer great benefits and a flexible, affordable education to Idaho residents.
WGU is the perfect fit for working adults who need a degree to boost their careers but can't fit traditional schooling into their busy lives. That's why hundreds of companies, associations, school districts, municipalities, and other organizations choose WGU as their partner in educating their workforces and graduates.
WGU is Affordable
WGU is a nonprofit online university. What does this mean for you? Very affordable tuition. In fact, WGU is around half the cost of other online universities. WGU is also approved to offer federal financial aid to those who qualify.  
See What Governor Brad Little Has to Say about WGU
"My number one goal is to make Idaho the place where all can have the opportunity to thrive, and the reality is our employers desperately need skilled workers in many different fields, including health care, education cybersecurity, and manufacturing," stated Governor Little.  "Western Governors University has an important presence in Idaho, particularly in serving adult-learners, many of whom are working full-time while pursuing their education, are first-generation students, and live in rural Idaho. Deepening our state's collaboration with WGU supports my broader efforts to create opportunity and prosperity across Idaho."
The Nation's First Online, Non-Profit, Competency-Based University
Our competency-based approach to education allows for extensive personalization of your program to fit around your busy schedule and allows you to progress in your program as soon as you reach mastery. You learn and complete courses on your schedule.

Financial Aid and Grants Available
The Idaho State Board of Education has many available opportunities for financial aid through their website. Here are some examples of the scholarships and grants available, and an overview of the eligibility requirements.
For full eligibility requirements and information on each of these grants and scholarships, click the button below.
Idaho Opportunity Scholarship: An annual award given for up to four years with an amount of up to $3,500.
Idaho Opportunity Scholarship for Adult Learners: An annual award given for up to four years with an amount of up to $3,500. Applicants must have prior credits and a 24-month break since last date attendance.
Idaho Gear UP Scholarship: An award open to Idaho residents who graduated high school in 2017 or 2018.
Idaho Post-Secondary Credit Scholarship: Merit-based scholarships from business and industry. Applicants must have completed 10 post-secondary credits at the time of high school graduation; award given is up to $4,000.
Idaho Advanced Opportunities Grant: This award is for students involved in a dual enrollment program. Students attending public school grades 7-12 are eligible for up to $4,125 to be used at an eligible postsecondary institution such as WGU.
Transferring your Community College Credits or Degree to WGU is Simple
Students with an Associate of Arts (A.A.) or Associate of Science (A.S.) degree usually qualify for an Upper-Division standing at WGU. 
Depending on your degree program, you may qualify for additional requirement waivers. If you have completed some college coursework but have not earned a degree, WGU will conduct a transcript evaluation. Your experience may waive some of your requirements.
If you'd like to do an initial self-assessment of transfers you may qualify for, you can view our transfer pathways site. Please note, this tool is for desktop users. Any questions you encounter can be resolved by speaking with an Enrollment Counselor.
Transferring From An Idaho Community College Has Never Been Easier!
See how easy and affordable it is to transfer to WGU! Learn more about transferring your existing credits by filling out the form below. You will receive access to on-demand videos about transferring to WGU.
For more information contact Megan Dibb, megan.dibb@wgu.edu, 208-703-4464.
WGU students pay half the tuition, and end up with half the debt of the national average.
Finish Your Degree Faster, for About Half the Cost
WGU is a nonprofit online university. What does this mean for you? It means we're driven by a mission, not by shareholders. It's part of what enables us to charge half the tuition of most other online universities. WGU is also approved to offer federal financial aid to those who qualify.
Our competency-based approach measures your progress through your successful completion of challenging assessments. If you have existing competencies from prior work and education, you may be able to draw upon this experience to complete your assessments faster and accelerate your degree program; this will save you both time and money.
WGU average annual bachelor's tuition rates are 57% the national average, compared to national rates reported by the Integrated Postsecondary Education Data System. WGU average rate does not include rates for WGU Bachelor of Science, Nursing Prelicensure program.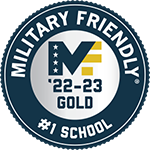 Financial aid is available.
WGU is approved for federal financial aid and U.S. veterans benefits. 
A Purple Heart University
The Military Order of The Purple Heart, Idaho Department, has recognized WGU as a Purple Heart University for its support of military veterans, noting that WGU has a large and highly decorated veteran population.
As the oldest military decoration in use today, the Purple Heart is awarded to members of the U.S. armed forces who have been wounded or killed in combat. 
Other future students looked at these pages to help them decide:
Online degree programs from four colleges.
WGU is an online school with career-aligned bachelor's and master's degrees—in teaching, nursing, IT, and business—designed to allow working professionals the opportunity to fit a online university education into their busy lives.

Next Start Date
Start the 1st of any month—as soon as you complete enrollment!
College can be affordable—and it's definitely worth it.  We're here to help you make the best decisions on degree program, payment options, scholarship application, and more.