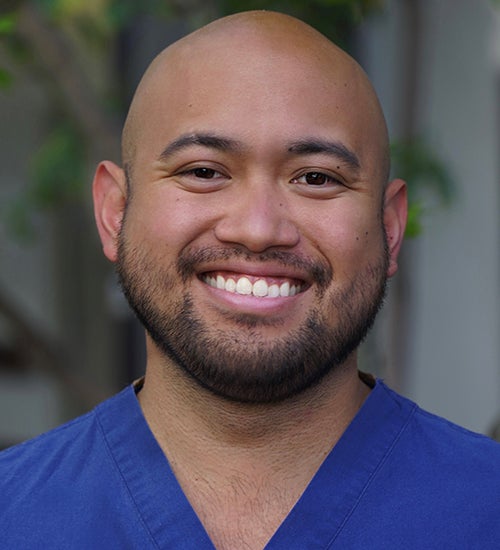 Our students at WGU remind us every day that diversity is one of our community's greatest strengths. "We are greater than the sum of our parts when we work towards something bigger than ourselves," said WGU Master of Science in Nursing–Education graduate Niel Denuna. "In my case as a staff nurse and nurse educator, the work is towards helping people and educating students," he continued, "And it's a beautiful thing to experience the work together."
Niel has been working as a nurse for more than seven years—first as a MedSurg Telemtery nurse until he transitioned into the role of operating nurse. "I found myself loving to talk to and teach student observers in the [operating room]." 
Niel's attention to his colleagues caught the eyes of his charge nurse and manager, who resolved to give him opportunities to train new hires. These experiences helped Niel to realize that he was special, that he had more to offer the world of nursing, and it inspired him to explore his options to advance his career. "Naturally, my aspirations led to grad school," he said. 

"While I was researching which grad school to attend, I came across WGU's Center of Excellence designation," he said, which was familiar to him because the hospital he worked at had received its own Center of Excellence recognition. As an orthopedic operating room nurse, Niel observed firsthand the evidence-based care required for a hospital to receive such a reputable distinction. Niel was also influenced by WGU's commitment to nurturing diversity. "WGU's tuition shows how it is promoting social equity by providing quality education at an accessible price point," he said, "I also found out about WGU's Office of Diversity, Equity, and Inclusion, which [proves] prioritizing inclusion for students is not an afterthought."
Niel is a born leader, and he brought that energy to his advanced nursing education. "As a senior nursing student, I felt compelled to support, encourage, and assist the incoming nursing students in their academic journey," he said. "Any time an underclass student asked for help, I did not hesitate to share my experience relevant to their situation. That desire to guide and teach stayed with me as I worked as a nurse."
Niel feels strongly that he made the right move choosing WGU as the place to further his nursing career. "The support throughout [my education] was superb—whether I was moving, traveling, taking on more hours due to short staffing and COVID-19, or finally reuniting with friends and family, my Program Mentors were there to listen, encourage, and celebrate with me along the way," Niel beamed. "Their support and guidance were instrumental on my path to graduation." 
In recognition of Asian Pacific American Heritage month, Niel shared his simple, yet poignant wisdom on diversity and inclusion: "Diversity is a strength." He continued, "I am appreciative of WGU for offering me—and others from all walks of life—this opportunity to share my insights and my perspective." All the cultures represented at WGU are essential threads in the fabric of our community. This and every month, we honor the contributions Asian Americans have made throughout the course of our country's history and we embrace American diversity with openness, patience, and empathy.