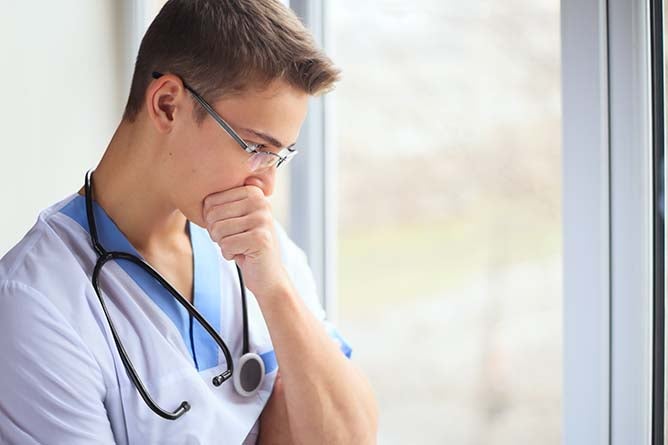 Everyone makes mistakes. Maybe you accidentally hit reply-all in an email chain. Maybe you forgot to follow up a critical concern with your boss. Whatever the error, it's most likely caused by distraction, overwork, exhaustion, unfamiliarity, or miscommunication.
Mistakes made by nurses and other medical personnel are caused by the same things—but their mistakes could have serious repercussions for patients in their care, including inconvenience, injury, and death. That's why entire books have been written on this complex and misunderstood topic
Let's look at some of the most common nursing errors and how new and experienced nurses can prevent them.
1. Medication errors.
You can't talk about nursing errors without talking about medication mistakes. Every nurse can tell you the five rights of medication administration, described by the Institute for Healthcare Improvement:
The right patient.
The right medication.
The right time.
The right dose.
The right route (oral, IV, topical).
Some facilities have added supplementary rights—such as the right documentation and the right education—but these are the rights where many errors occur, especially among newer nurses who might not yet know them like the backs of their stethoscopes.
Imagine that you have two patients in adjoining rooms. One is Mr. Nelson and the other is Mr. Nielson, and they need hydroxine and hydralazine, respectively. The opportunity for error is huge—especially if you're busy and distracted by your many other responsibilities.
How do you avoid dropping Mr. Nielson's blood pressure unnecessarily? First, know your pharmacology. As a nurse, you're the last line of defense—even though a drug might have been prescribed by a physician and prepared by a pharmacist, you're administering it. You need to know what the drug is prescribed to treat, what a safe dosage is, and what the major side effects are. If you don't know any of these, look up the answers on a clinical pharmaceutical website.
If something doesn't seem right with the medication, it's your responsibility to question the order and make sure that the patient is safe. If that means you have to refuse to administer a medication that you believe is unsafe, then so be it.
Fortunately, many facilities have implemented barcode scanning systems that electronically confirm that you have the right patient, giving the right med, the proper dosage at the right time. If these systems are in place, don't shortcut the process. Shortcuts and workarounds are a surefire path to mistakes.
2. Fall prevention.
Mention patient falls to any nurse, and they'll shudder involuntarily. Patients often fall when they try to walk around in an unfamiliar environment (such as a hospital or a care center) when they're medicated or physically tethered to equipment, such as an IV line or a Foley catheter.
Nurses are responsible for protecting patients from falls. How can you keep your patients safe?
Preventing falls is key to preventing physical damage from them. A fall can lead to broken bones, neurological injuries, and even death, according to the Gerontological Society of America. If the patient is particularly large or immobile, specialized equipment might be required to get them off the floor.
Secure the environment by minimizing tripping hazards. Make sure that the path to the bathroom is especially clear.
Anticipate their needs. Many falls happen because a patient is simply trying to meet their needs. Offer to help them go to and from the bathroom and use the toilet. Make sure that their call light is always within reach. Put their glasses, their cellphone, a pitcher of water and a cup, tissues, and anything else they might want handy on their bedside tray.
Put on (or have them put on) their nonslip socks or nonslip shoes if they go for a walk.
Make sure that—if they use one—their walker, wheelchair, or cane, is always within reach.
Keep the patient's bed as low as they're comfortable with to reduce injury if the patient falls out of bed.
Fall prevention is complex, and every facility has its own system for designating patients who are fall risks and what precautions should be taken. Follow that policy and use your best judgment to protect your patients.
3. Fatigue-related errors.
Nursing is physically and mentally demanding work, and it can be easy for fatigue to gradually mount, manifesting itself in a variety of errors. In addition to the mistakes already listed, fatigue can also cause equipment injuries. 
Though perhaps not a "mistake" in the traditional sense, physical and mental fatigue can lead to injuries to nurses and patients alike. Nurses operate in environments with a variety of tools, machinery, and substances that must be handled with caution. Knowing and following proper body mechanics -- and getting proper rest and nutrition -- will reduce your likelihood of injury. When lifting patients or performing other physically taxing tasks, ask for help if you need it and use a lift device if one is available.
And of course, always use personal protective equipment when you're around potentially dangerous substances or infectious diseases. Protect yourself from being pricked by a stray needle by using safety lock devices whenever possible.
Preventing mistakes.
One of the most important things you can do is keep your mind and body in top condition. Exercise, eat right, get adequate rest, and manage your stress in positive ways. Doing so will help keep your body healthy and reduce your likelihood of mistakes.
Investing in yourself and your career can also help protect your patients. For instance, many errors can be addressed at the facility level by the management team. By earning a degree in nursing, you can join the management team and implement patient safety measures—such as instituting a barcode medication administration system—on a systemwide level.
This isn't an exhaustive list of mistakes made by nurses. But they're the most common—and by being cognizant of them, you can help to prevent them.