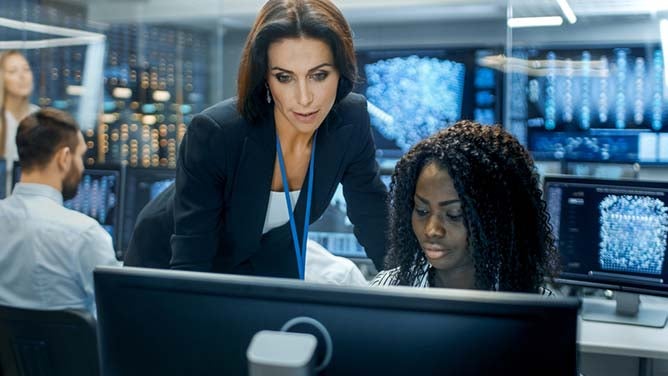 Having a strong IT department is critical for any organization in any sector. Effective IT leaders are essential to keeping those departments running smoothly and maximizing technology's value to the enterprise.
Great IT leaders share many of the same qualities that effective leaders have in other industries. They must be strategic thinkers who can see the big picture. They must be able to anticipate future needs. And they must be skillful managers who get the best out of their employees.
But the IT industry is different. Technology changes quickly, which creates distinct challenges for people leading IT departments. And the complexity of managing disparate systems and making sure that they work together seamlessly requires a balance of technical skills and people-management skills. Leaders also serve multiple stakeholders—they have to deliver the needs of their team while advancing broader organizational goals.
That means IT department leaders must possess unique skills beyond those shared by other leaders. Here are three critical skills that tech leaders need to excel.
1. They must be agile.
Organizational priorities can shift at a moment's notice. This doesn't just affect where employees focus their energy, it also affects the IT projects that are needed to support those activities. Forbes describes the agile approach to IT as one where IT leaders think of their department and its services as "a growing, learning, adapting living organism that is in constant flux."
Every industry evolves and makes strategic shifts. But IT takes it to the next level by integrating the agile mindset into the entire department's ideology and methodology. Technology leaders have to be able to keep up with rapid changes and adjust their team's strategies and tactics on the fly. It's not enough to be a good manager of people; leaders must help their teams adapt quickly. Agile thinking also aids problem-solving skills, a key aspect of any technology leader's job.
Because technology is continuously evolving, the ability to adapt serves tech leaders well as they strive to learn new skills and stay abreast of emerging developments.
2. They must be efficient multitaskers.
Nearly every job in every industry requires some level of multitasking. Whether juggling multiple projects or balancing organizational and technical tasks, successful professionals have to be able to multitask.
But multitasking is essential to the world of IT. While they're balancing multiple projects, IT leaders must also keep up with their own professional and technical development—more so than leaders in other industries. Because technology and computer systems are continuously evolving, it's incumbent that successful IT leaders stay on top of changes in the industry as they're juggling day-to-day responsibilities and managing teams. Keeping up with the rate and pace of change, CIO reports, helps IT leaders stay afloat in a rapidly changing field.
What's more, IT leaders not only have to be knowledgeable about the latest systems and technologies; they also must have a thorough understanding of their organization's goals and how technology supports these goals. In other words, they have to be experts in their domain and business strategy.
3. They must be master communicators.
Every leader must know how to communicate. But leaders in IT fields need to be able to communicate in ways specific to the industry. They must be able to understand several coding languages and use technical jargon to lead their IT teams, but they also need to be able to break down complex information into simple terms for employees who lack in-depth technical knowledge, including C-level executives. At the same time, they must be able to communicate business and budget strategies to argue for investments and improvements to the IT department.
"Effective leaders know how to gauge the situation they're in and determine what and how they need to communicate," CIO notes. "They master their presentation style, their email, their negotiation skills, and even their water-cooler conversation because they realize that communication is a part of their brand and sends a message about their ability. Being able to communicate in different ways for different stakeholders is critical to an IT leader's success.
Honing the right skills.
While IT professionals can learn some of these skills on the job, formal training and education can thoroughly prepare IT employees to ascend to key leadership roles.
WGU offers 2 degree programs that will help you reach your potential as an IT Leader. The first is the master's in IT management in the college of business. This program teaches students the principles of effective leadership, which helps IT leaders maximize organizational performance. The program also provides you with a broad knowledge base, as it covers a variety of topics, including marketing and communication, project management, talent and human capital management, economics, financial management, data-driven decision-making, ethical leadership, and strategic IT solutions.
WGU also offers a Master of Science in IT management within the college of IT. This program includes courses such as Power, Influence, and Leadership, Financial Management for IT Professionals, Project Management, Globalization, Communications, Emerging Technologies, and Operations and innovation, and IT Sourcing and Development.
Learning IT leadership skills creates numerous opportunities for career advancement. Effective IT leaders are in huge demand across all industries, and a formal training program can pay big dividends in your IT career.