Wonder if a cyber security career is a good choice for you? You may have heard that information security jobs and careers are hard to get, and are in high demand. But you also may worry that you don't meet the requirements or have the qualifications to do cybersecurity jobs. People have all sorts of misconceptions about the cybersecurity field, and these misconceptions may be preventing them from pursuing a career that might actually be a great fit. Here are a few of the most common cybersecurity career myths.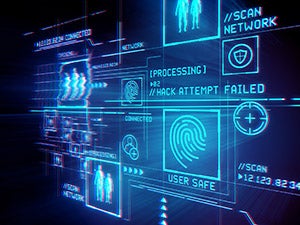 Myth 1: You need to be a computer genius in many network systems.
One common assumption is that you need an advanced degree in computer science for a cyber security career. That might have held true a couple decades ago when security was relegated to the realm of information technology (IT). But today's cyber security professionals fulfill a wide array of job roles—some technical, and others strictly security, analytical, and business-focused.
Some cybersecurity career roles, such as penetration tester or information security architect, require a degree relevant to information systems or computer science, along with in-depth knowledge of software development tools and methodologies. However, other job roles within an organization, such as network forensics analyst, can be achieved with a more network-focused degree, combined with some cyber security networking certifications and training on packet analysis tools. Different information security programs require different knowledge, but employers won't expect you to be well versed in everything cybersecurity right away. Specific network systems may require cyber security and computer science skills that you can't learn from a degree program or certifications. This just means that your career peers will help you learn the specific skills needed for your individual cyber security tasks. 
Myth 2: Cybersecurity is a narrow field.
Ask five cybersecurity experts how they got into the field and you're likely to get five different answers. Cyber security professionals have diverse information technology backgrounds and mind-sets, but they're connected by a common passion and curiosity. Gathering groups of individuals with a common cyber goal—to find new security features that meet organization and government requirements—makes the cyber security field feel like a genuine community. Information systems experts across organizations and specialties want to help each other. Conferences, events, and meetings are created all for cyber professionals to work together on new security technology and practices. Some cyber professionals even make a career out of these security conferences
You might think cybersecurity is a narrow field where people spend all of their time in cubicles looking at computer screens, but this isn't the case. Cyber security professionals are engaged at all levels of business, and their influence extends well beyond IT. The business depends on them, after all. They spend their days looking for solutions to digital threats, and their goal is to solve those cyber attacks with any means necessary.
Myth 3: You'll need to learn everything from scratch.
One of the scariest things about changing to a cyber security job is worrying that none of your existing skills will be relevant, so you'll have to start from scratch. Thankfully, this isn't true of cybersecurity—it's one of the many career myths in the cyber security field. While cybersecurity is a dynamic field, it's also a vast one. You'll likely be able to find a niche where your previous knowledge, experience, and skills are relevant. Whether you enter the field with strong communication skills, information systems or computer science experience, technical know-how, or business acumen, you'll find that your skills are in high demand in the cyber security world. Security problems are almost always different in scope; the security for information systems will vary based on the software and technology involved. Your employer and colleagues will also be able to steer you into the right direction when it comes to how to accomplish your specific cyber security job. 

Myth 4: The career path for cyber security is too hard.
While you won't just become a cyber security expert overnight, the path to becoming qualified for cyber security is simpler than you may think. A computer science or cybersecurity degree can help you be ready to tackle a cyber security job. Many organizations will also help you get cyber security certifications necessary for their specific work. The best place to start is to look at degree programs available near you. For many people pursuing  cyber security, an online degree program gives them flexibility and an introduction to how employers work with information security specialists. Many employers will need information security analysts that can work at unique times from anywhere, as network releases and updates often happen overnight or on weekends. The online programs for cyber security at Western Governors University are also a great place to start your cyber security career path. Our cybersecurity program focuses not only on a cyber security degree, but on certifications that help get security professionals up-to-date on the latest trends and technology. You can get started with our online cyber security degree program today. To learn more about the required skills and experience you really need to enter the cybersecurity field, read our cybersecurity Jobs Guide. 

Myth 5: The hours and pay for cyber security aren't good.
This cybersecurity myth is completely untrue! Most jobs in information technology or computer science pay extremely well. The requirements for cybersecurity professionals involves keeping up to date on current technology systems and constant learning. Because of these information systems requirements, pay for cyber security experts is high. The Bureau of Labor Statistics estimated that the median pay for information technology and information systems analysts was around $95,000. Cyber security is a field that is also constantly growing. Security professionals can expect to be in high demand across industries. The cyber security programs for various organizations are always looking for new talent, and as threats and the need for digital solutions increase, so will the need for cyber security professionals. 
Similarly, the hours for security professionals are good. During systems updates, security upgrades, and certification implementations, cyber security employees may need to work non-traditional hours. Cyber security employees may have to work overnight or on weekends to be prepared for specific technological changes or advancements. Security watches may be set up to protect vulnerable software releases and information system upgrades. While requirements for some non-traditional hours may be involved, most cyber security professionals don't expect to work extremely long weeks or strange hours very often.