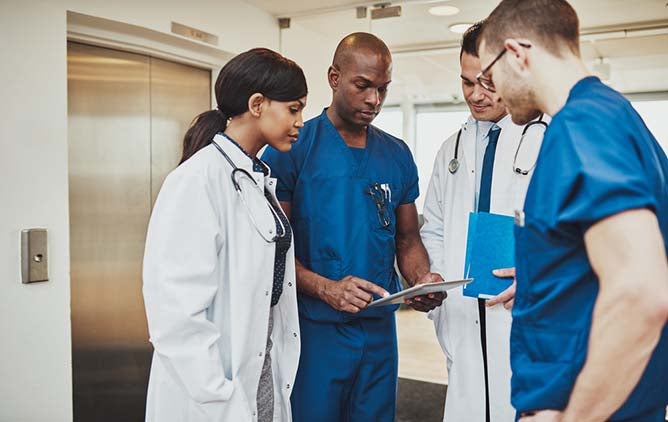 A good leader can make or break an organization. Leaders can inspire employees, but they can also hinder their progress.
It's the same in healthcare. Great nursing leaders can help their entire team work more efficiently, maintain high morale, and ensure that patient care is being delivered safely and effectively.
Because great leadership is critical to success, hospitals, acute care facilities, senior living homes, and other medical facilities are always searching for strong leaders and managers to fill healthcare leadership jobs. Some roles, however, are in more demand than others—including these three.
Health services manager.
Healthcare facilities need leaders who know how to care for patients. Health services managers are typically assigned a specific clinical department, for which they set goals, determine policies, and delegate responsibilities. They help train staff and determine how their unit can function more efficiently by analyzing data, creating reports, and evaluating budgets.
Preparing for a health services leadership role usually requires experience in a specific clinical area, such as pediatrics, geriatrics, or labor and delivery, among others. It's good to have a firm grasp on the rules and regulations of the unit and have a strong clinical base in patient care in your specialty. A master's degree in nursing leadership and management is also beneficial, as it can give you the tools you need to lead effectively.
Health services leadership positions, such as clinical nurse leader and services manager, are in demand as healthcare facilities continue to improve their nursing capabilities. The Bureau of Labor Statistics projects that as the healthcare sector grows, there will be an increased need for healthcare leaders. The employment rate is projected to increase by 18 percent by 2028—that's an influx of more than 71,000 roles. Health services managers average just shy of $100,000 a year, the Bureau of Labor Statistics reports.
Nursing home administrator.
As baby boomers age and require more long-term care, memory care, skilled nursing, short term/rehab, personalized care, and home health services will keep booming—and the demand for qualified nursing home administrators and other senior care managers will boom with them. Nursing home administrators need to have a strong patient care background, and they need to stay current with payor rules and regulations from insurers and Medicare and Medicaid to effectively care for senior populations.
Additionally, nursing home administrators must also hire staff, balance budgets, ensure proper building maintenance, and ensure adequate admissions into the care facility. Caring for older adults in a long-term setting can be challenging, but it can be fulfilling, too, and it's a great position for skilled nurses with managerial experience.
A passion for helping people lead a fulfilling life, business savvy, and a solid knowledge of regulations will help prepare you for a career as a nursing home administrator. A master's degree in healthcare management can provide you with the tools to effectively manage the business of a nursing home. Nursing home administrators make about $115,000 a year, salary.com says.
Health information manager.
Healthcare facilities are increasingly reliant on data sets, so they need employees who are versed in IT and analytics to use the data collected by charts, machines, and computers to improve procedures and patient care. The Bureau of Labor Statistics anticipates that this sector will grow by 11 percent by 2028.
Health information managers keep important health data safe and secure. They also manage large databases of information and collect and analyze data to improve patient outcomes. They play a critical role in a healthcare facility, using detailed analytics to measure and manage policies, procedures, and patient care initiatives.
Becoming a health information manager could require you to develop and combine several strengths, such as your knowledge of data management and IT, your ability to lead and make important decisions for your department, and your knowledge of laws and privacy practices. A bachelor's degree in information technology management or health information management or a master's in nursing informatics can help you step into this leadership role. Health information managers make about $56,000 a year, on average, according to Payscale.
Heeding the leadership call.
Strong leaders marshal their teams to become more than the sum of their parts. They use their expertise and strong communication skills to inspire, direct, and encourage their coworkers. Ultimately, healthcare leadership jobs help shape the future of healthcare. Are you ready to step into that role?