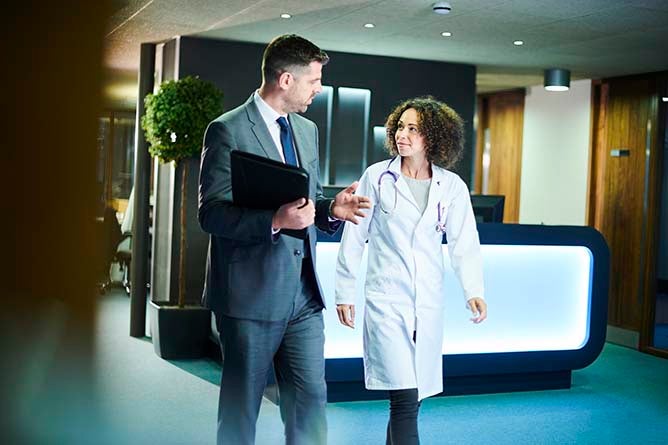 Nursing careers offer the unparalleled chance to directly make a difference in the lives of patients and their families, day in and day out, year after year. If you find yourself dreading the drudgery of "day in, day out" more than you're encouraged by the optimism of "make a difference," though, that could mean you're ready to hang up your stethoscope and explore a career change.
Nursing is difficult, demanding work, and it requires nurses to be at their best while helping people who might be at their worst. That intensity can take a toll, even in people who love patient care and the profession itself.
Fortunately, the education, training, and personal qualities that help you succeed in nursing can also open doors in other fields. Here are three careers that could be a good fit for a nurse seeking a change.
1. Pharmaceutical sales representative.
According to innerbody, Pharmaceutical sales reps visit doctors and other healthcare professionals who prescribe medicine to educate them about new medicines and how they can be used in clinical practice. Sales reps must have a deep understanding of medicine and pharmacology, which is where your nursing training can help you shine.
Sales representatives must also be able to communicate clearly and effectively with administrative employees, medical staff, and other healthcare professionals. They need to build rapport quickly and accept frequent rejection. They might be home- or office-based, but they'll spend much of their time traveling their sales territory.
Nurses might enjoy being free of the 12-hour hospital shifts they're used to, but they should also realize that many representatives work long hours—including evenings and weekends—partly to keep up with scientific developments and partly because some of their compensation is based on sales commission.
According to the Bureau of Labor Statistics, the number of available jobs for scientific and technical product sales reps is expected to increase by 4 percent by 2028. Pharmaceutical sales representatives make, on average, about $66,000 a year, Glassdoor says.
2. Healthcare recruiter.
Healthcare recruiters recruit, screen, interview, and hire physicians, nurses, IT experts, technicians, and administrative staff for medical employers. As such, they're trusted with sensitive employment information. Healthcare recruiting is similar to sales in that great recruiters are like great sales reps: they can build a network of trusted contacts, they're great listeners, they think creatively, and they can solve problems.
With your deep knowledge of how healthcare works, you're well positioned to be a healthcare recruiter. Knowing the skills and backgrounds that best fit various roles that make up the healthcare ecosystem will give you a leg up on the market. Your experience in handling sensitive information and communicating with patients and physicians will help you interview and recruit new healthcare employees. To be a recruiter, you'll also need strong administrative skills and knowledge of labor laws. You'll also probably need a bachelor's degree, although many employers will be flexible about what you studied in college.
According to the healthcare recruiter Relode, healthcare recruiters usually earn about $75,000 a year—and that sum jumps when you factor in commissions.
3. Medical writer.
Maybe you still want to educate people about health and wellness but you no longer feel compelled to do so at the bedside. Medical writers help many people at once by explaining common medical problems and referring readers to reputable sources of scientifically validated information. Medical writers also produce the continuing medical education programs that physicians, nurses, pharmacists, and other providers must complete each year, and they write articles about new research findings and clinical developments that medical practitioners must read to stay current.
Medical writing is largely a self-directed field and can be done outside of working hours as a supplement to your nursing career. While you don't need any certification or license to be a medical writer, you will need a strong writing background, and you'll need to be able to manage your time and business. Having a medical credential and knowing the medical terminology—which, as a nurse, you're likely to have and know—can give you a competitive advantage in the marketplace.
According to PayScale, medical writers make an average salary of around $71,500, but top writers can make upwards of $100,000 while still maintaining a flexible work schedule. However, freelance writers must fund their own benefits, such as health insurance and retirement accounts, and pay the employer's share of payroll taxes, so careful financial planning is required. There are many online resources that can help new freelance writers get started, such as Freelance Writer's Den and makealivingwriting.com.
Nursing careers are highly desirable because an RN credential is flexible and in high demand in and out of the healthcare ecosystem. If you decide to set your scrubs aside—if only for a while—keep your nursing license current. That way, you can quickly pivot if you decide you want to go back to the bedside.