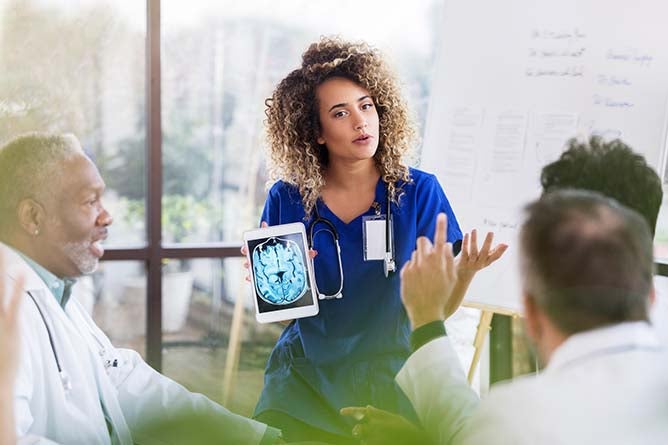 Nurse supervisors experience different leadership issues in nursing than nurses who work directly at the bedside, but they still focus on providing top-notch patient care. As nurses step into leadership roles, providing the best care possible nonetheless remains the ultimate goal. The difference is that nursing leaders must oversee and manage those issues to enable that care.
Here are some primary challenges that every nurse leader faces—and how to handle them.
1. Staffing.
Ask any experienced nurse you know about leadership issues in nursing, and odds are that they'll bring up staffing. Staffing eats up a tremendous amount of a nurse leader's time, and solving staffing puzzles can often be as intricate as weaving lace — even in cases where staff is self-scheduled, nurse leaders are still responsible for staffing ratios.  
Nurse leaders schedule shifts, but ensuring safe staffing involves careful calculation. Nurse leaders must account for the potential for overtime and preventing it as much as possible.
There are also special scheduling requests to consider. Some staff members might be taking personal time off, and some might be on special-duty assignments for staff recovering from injury or illness. Nurse leaders must also consider the availability of travel, part-time, and/or pro re nata staff, who only work when they're needed, in the event of call-outs and the varying experience levels of their nurses. During times when there is an influx of patients with serious or life-threatening issues, increasing staff may be necessary to accommodate the added workload.
2. Budgeting.
Every nurse leader must adhere to a budget and ensure that their staff does as well. The bulk of nursing budgets are taken up by staff payroll and nursing and medical supplies, so nurse leaders must walk a tight line to manage the use of staff and supplies to provide safe and efficient care within tough financial constraints. Nurse managers and their staff are increasingly being called upon to do more with less, which forces them to continually look for ways to improve efficiency. This can be challenging when staff turnover is high and staffing resources fall short.
Nurse leaders can mitigate these challenges by partnering with nursing informaticists to identify inefficiencies in current budgets. Informaticists analyze financial data to make strategic budgetary recommendations, and nursing leaders can enact the recommendations to make the most of finite budgets.
3. Boosting morale and avoiding burnout.
Morale can have a significant effect on any business, but the consequences are especially profound in nursing. The internet is flush with tales of unhappy nurses who are forced to accomplish so much with so little. Low morale and high burnout are counterproductive to safety and patient care and can be catastrophic to the retention of good employees. Morale issues and burnout can also have detrimental effects on the physical and psychological health of those employees who have no intention of leaving the unit.
Nurse leaders are in a prime position to boost team morale and help staff avoid burnout. Forging strong relationships with nursing team members, acknowledging and addressing their concerns, and rewarding them when they succeed can help show them that they are cared for and respected— and that can go a long way toward making them feel appreciated and helping them avoid burning out.
4. Retaining nurses.
Retention is a constant concern for nursing leaders. The constant demands of patient care, pitted against staffing limitations, long shifts, and corporate quality initiatives that complicate the delivery of care, have many nurses rethinking their career goals.
When it comes to the role that nursing leadership plays in staff retention, Rose O. Sherman says it best in Emerging RN Leader: "As front line leaders, they run the equivalent of small businesses and also serve as chief retention officer for their organizations." The best way to retain staff, Sherman says, is to develop nurses' trust in the leadership. Nurses need to feel—not just know empirically—that they are valued partners in care delivery.
The nursing field comprises nurses from different generations with different work styles and goals. Being sensitive to those differences and managing with generational sensitivity is crucial to retaining good nurses from all generations. But many of the biggest imperatives related to job satisfaction for nurses span generations: respecting work/life balance, providing the tools and resources to succeed, acknowledging good work, and building more authentic, personal relationships. Providing this personal care for every nurse can help keep them invested in their roles.
Meeting common nursing leadership challenges.
Nurse leaders can't magically double their staffing guidelines or their budgets, but they can learn to be effective leaders and earn their teams' respect and loyalty. They can gain their teams' trust by listening to and appreciating them. They can create a more positive environment by creating open lines of communication and by listening as much as they speak.
Creating a better nursing work environment leads to better and safer care, which in turn improves morale. Nurse leaders who can develop their staff are poised to make a lasting impact on their teams and their patients.