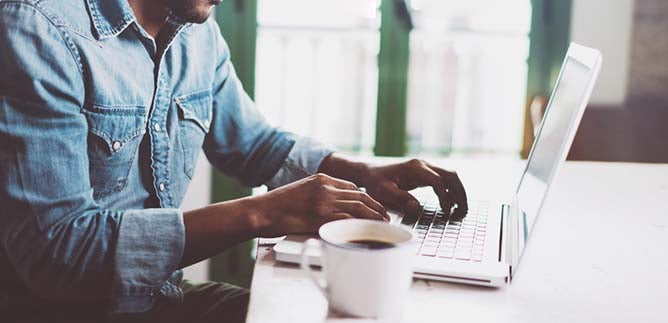 More industries are adopting remote work policies, and the IT industry is jumping on board. Work-from-home IT jobs aren't just ideal for employees; they're beneficial for employers, too. According to a 2017 Global Workplace Analytics survey, businesses would save about $11,000 per person per year if employees worked from home at least half of the time. More than 4 million employees currently work from home at least part-time—that could add up to huge savings.
It's easy for IT professionals to work remotely because many of them can enter into computer systems and programs on any device from almost anywhere in the world, provided they have the proper security credentials. If you're interested in working in the IT industry and would love the convenience of working remotely, here are four work-from-home IT jobs that you can do without ever stepping outside your front door.
1. Systems administrator.
Systems administrators oversee the day-to-day operations of specific networks. A big part of their job involves installing, supporting, and maintaining a company's servers. Only some of this work involves the physical hardware of the systems; most of the rest of their time could be spent managing operations remotely.
According to the U.S. Bureau of Labor Statistics, employment for systems administrator positions will grow 6 percent by 2026. A degree in computer science or systems administration could help you get a foot in the door in a field where the average annual salary is around $82,000. There's also significant room for advancement, as many systems administrators go on to be systems architects or cybersecurity professionals.
2. Database administrator.
Database administrators install and manage software, back up and organize data, maintain security protocols, and monitor the performance of databases that house sensitive information, such as financial records or healthcare patient information. Like systems administrators, much of their work can be conducted virtually.
The Bureau of Labor Statistics reports that the number of database administrator jobs is expected to grow 11 percent by 2026. Earning a bachelor's degree in computer science could open the door to a database administrator position, which pays, on average, about $90,000 a year. If you're interested in climbing the career ladder, you could parlay the experience you gain as a database administrator into a job as a data architect or even as a chief information officer.
3. Security analyst.
While many industries post security guards outside their brick-and-mortar locations, security professionals in the IT industry mostly work behind the scenes—and off-premises. Security analysts evaluate an organization's security protocols and implement measures to strengthen those procedures and protections. Because their work is done almost entirely online and through an organization's back end, security analysts are able to protect their employers from cyberattacks from the comfort of their couch.
With a bachelor's degree in cybersecurity and information assurance, you should have employers knocking on your door. The Bureau of Labor Statistics reports that security analysts make about $98,000 a year on average, and the number of jobs in the field is expected to grow 28 percent by 2026. Analysts can graduate to even more lucrative positions, such as chief information security officer and cybersecurity director.
4. IT Project manager.
IT project managers oversee all aspects of a company's crucial technical projects. Coordination and communication are essential skills, but thanks to modern communications tools and apps, remotely managing a team isn't hard. With the right systems in place, an IT project manager can plan and delegate responsibilities from their home office.
According to the Bureau of Labor Statistics, IT project managers make north of $142,000 a year, on average, and the number of IT project manager jobs is expected to grow 12 percent by 2026. Many project managers take their career to the next level by getting promoted to vice president of project management or IT, overseeing a team of project managers and determining the future of the organization's IT strategies.
As organizations increase their use of technology to manage company information, facilitate day-to-day operations, and communicate, they'll need IT professionals to maintain the systems and teams that keep those processes functioning. If you're looking for a fulfilling IT role that allows you to work from home, consider one of these positions in your next job search.