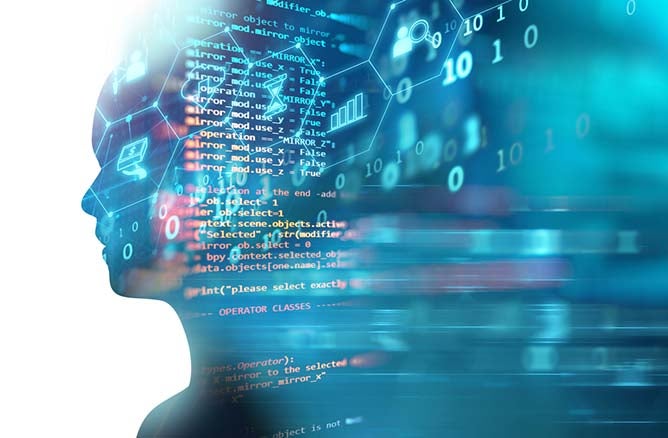 The IT industry is continually changing—all you have to do is look at the recent past to see how far IT has come in a short time. Ten years ago, would you have believed that a company known for making e-readers would put an electronic assistant in your home? That you'd be able to hail a ride or order a meal by accessing a program through a touchscreen on your cell phone? That self-driving cars would be close to a commercial reality?
It's hard to know how technological advances will affect the IT job market, but we do know that tomorrow's IT professionals need to start building skills today. Here are some predictions about the technologies most likely to take off in the next decade and projections on how each will make its mark on the IT job market.
Artificial intelligence.
For years, pundits have been making hay about how artificial intelligence will change our lives. It's been slow to evolve, but AI is now finally starting to come into its own and work its way into various industries.
Developers can save the time and money they would spend individually testing applications, for example, by building and executing AI-driven automated tests. Gartner suggests that by 2022, AI developers will participate in at least 40 percent of new application development projects.
Improved AI will also mean a boom in autonomous things, such as drones and cars, that can make decisions and interact with people—and the field will need AI specialists to program, train, and manage these bots. IT professionals who have strong coding skills, experience with popular programming languages, and a background in computer science will be needed to keep up with this evolving technology. IT workers with degrees in IT or software development will also be well poised to obtain specialized positions working with organizations, such as grocery stores, law enforcement agencies, and corporations, that will soon rely on this technology—if they don't already.
Edge computing.
The internet is everywhere now—it's in our homes, on our wrists, and in our workplaces, continuously uploading data to the cloud. The internet's even built into our everyday things—the extension of internet connectivity into physical devices and everyday objects is what's known as the internet of things (IoT). Over the past decade, IoT has made smart homes possible and has revolutionized manufacturing and other industries. Edge computing takes IoT to the next level by moving the information processing power from a distant cloud and closer to the actual devices.
In the short term, this makes for a faster, more powerful IoT. But Gartner predicts that in the next five years, specialized AI chips, used in the broader array of edge devices, will combine with a high-bandwidth, low-latency 5G wireless network to enable robust communication back to centralized services. This could revolutionize edge computing, and potentially the cloud.
To prepare for and manage this change in computational speed, developers will be needed to build solutions that can handle fast, almost real-time computing. Developers who have a strong understanding of the operations side of IT will have a leg up on the job market; these DevOps programmers and engineers will help unite computing and logistics as technology evolves.
Information security.
Cybersecurity is an evergreen need in the IT field, although it, too, is continually changing. Hackers learn new ways into systems, so information security specialists need to learn new ways to secure systems against them.
Cyberattacks have been increasing over the last few years, and there aren't enough information security professionals to stem that rising tide. According to the 2018 (ISC)² Cybersecurity Workforce Study, there's a global shortage of almost 3 million cybersecurity professionals, and 59 percent of organizations report that they are at extreme or moderate risk of a cyberattack because of staffing shortages.
This is the sort of job shortfall that can bloom into crisis if the volume of cyberattacks continues to increase. IT professionals with degrees in cybersecurity and information assurance will continue to be essential. According to TechCrunch, companies are also looking for cybersecurity professionals with bachelor's degrees in programming, computer science, and computer engineering. Ideal candidates have academic backgrounds in statistics and math, certifications in cybersecurity, and experience in intrusion detection, secure software development, and network monitoring.
Software development.
Ever wonder how Netflix and Amazon are consistently able to update their applications without crashing them? Because they employ microservices, a software architecture principle wherein large applications are made up of smaller component applications that can be changed or updated without taking the entire application offline.
Software used to be built all at once and in one large piece, and that left it vulnerable to total systems failure. Microservices architecture, however, lets developers design, debug, and update code quickly. IDC predicts that by 2022, 90 percent of all new apps will be built using microservices architecture.
Without DevOps professionals trained to manage backend programming and network operations, microservices architecture wouldn't be feasible. As the IT field continues to grow, it will need developers, operations experts, and DevOps professionals to evolve with this technology. Professionals with degrees in computer science or network operations, in particular, will be needed to take the lead on microservices architecture.
The IT job market of tomorrow.
In the not too distant future, IT will be faster and smarter, and the professionals of tomorrow are going to have to keep up. The good news is that jobs for developers and security specialists are always in demand, so obtaining critical skills will help you create a lucrative career. But the skills you'll need to remain relevant will change. Now is a good time to look into edge computing, start a quantum computing side project, or take courses in cybersecurity so you'll be well-positioned for the IT job market of the future.
The future is already on its way. Build your skills now, and you'll be ready for it.